Update: Wicomico County and Salisbury receive new fire service analysis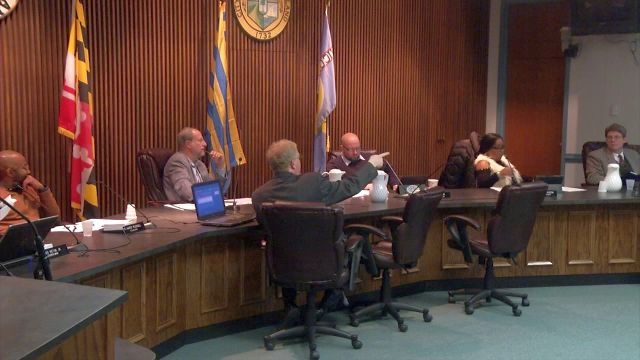 Just over a million dollar discrepancy for fire and EMS services. That's the number revealed to city council members by third party consulting firm, TriData, after months of research.
"It's about 1.08 million dollars and that's the DELTA, the difference between what is paid and what should be, and that's the recommendation that is being made," explains Salisbury Mayor Jake Day.
Salisbury's fire department provides EMS and fire services for the city and Wicomico County — a relationship that has been in place for decades. Currently, the county pays $956,000 a year for those services.
In 2015, under Mayor Jim Ireton's administration, this was all called into question. The city claims the discrepancy is closer to $2.2 million.
TriData looked through 2015 data from the 911 center as well as county and city budgets to calculate their figures. The firm found that for each EMS call, the county did not pay $193 and for each fire call, it was a $288.95 discrepancy.
With the City of Salisbury responding to 3,620 EMS calls and over 1,330 fire calls, that's how they calculated the county underpaid by more than one million dollars.
Councilman Jim Ireton asked many questions, clearly dissatisfied with the figures saying, "Those numbers are a start I want to say that and I appreciate you giving us a start and reaffirmed what we knew 18 months ago and 18 years ago that there is an inequality in the service in the payment of service."
The consulting firm had 10 recommendations for the city and county moving forward:
Recommendation 1: Wicomico County should keep accurate records of all response time intervals from 911 Connect through Unit Returning to Station.
Recommendation 2: Review dispatch protocols to ensure accurate time measurements. Time for Salisbury Station 1 and 2 should indicate whether the responses occurred during volunteer or career staffing times.
Recommendation 3: Wicomico County should continue to provide a fixed, equal financial grant for each fire company.
Recommendation 4: The County fire chiefs should work with the County Director of Finance to create an annual report that provides for more accurate and meaningful financial information.
Recommendation 5: No new volunteer companies should be formed to respond to County calls that Salisbury is currently handling as first due.
Recommendation 6: County residents who are served first due by the City of Salisbury should be charged no more than City resident rates.
Recommendation 7: Wicomico County and the City of Salisbury should choose one of the above models, or a variation of a model to determine reimbursement for EMS expenses.
Recommendation 8: The County should pay the City $288.95 for each fire call that the City responds to as first due in Suburban Wicomico County. Oversight should be provided as described above.
Recommendation 9: Wicomico County and the City of Salisbury should enter into a mediation agreement in order to reach consensus on implementing a reimbursement plan for services provided by the City.
Recommendation 10: After completing the reimbursement agreement, Wicomico County and the City of Salisbury should contract with a consulting firm to perform a comprehensive assessment.
One stuck out to Mayor Jake Day, "We have to now finalize the framework for the remainder of negotiations and what I think that looks like is what was recommended, which is a mediation so there's still a third party at the table it's not just direct one to one on negotiations, although I would be fine with that."
Wicomico County Executive Bob Culver tells 47 ABC that right now  the county will be reviewing this information and the recommendations given.
It's important to note, TriData mentioned at tonight's city council meeting that they were not provided all the data needed for their analysis due to the fact that the 911 call center didn't have the complete list of data they asked for.
TriData assures that their numbers are close but not 100 percent accurate.