On the Job: Fisher's Popcorn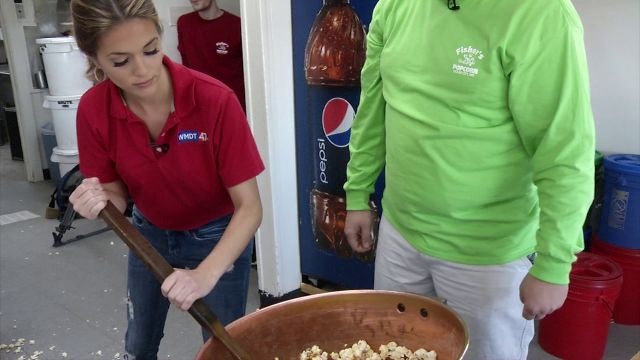 Whether you like caramel, white cheddar, cinnamon caramel or kettle corn, Fisher's Popcorn has it all. Around since 1937, their Ocean City boardwalk location is their original store! They also have several other locations including Fenwick Island and Bethany Beach.
Bill Wootten is the store manager in Ocean City. He says in order to make the popcorn, it requires a lot of steps. The first station that you start at is called weigh up. Here, they weigh their top secret brown sugar recipe and corn syrup. This is the mixture that goes into making their famous caramel popcorn. Another ingredient that goes into the mixture, butter. They even have an entire fridge dedicated to it!
After you have all your ingredients, you're ready to start! First you add your sugar and corn syrup mix, then a small cup of water, a spoon full of salt and finally your butter. After mixing all the ingredients for about 5 minutes, the caramel is ready!
But before you add the popcorn, you have to prep it. After it's popped it gets put into big plastic bins. You then dump the bin into a box that has grates on the bottom to release any uncooked popcorn kernels. When that's finished, it's dumped into smaller cans which are ready to use!
After the popcorn is in, you need another stick of butter and you have to make sure you butter the sides of the pot before dumping the rest in. When that's all done, you tilt your pot so it's easier to mix. Bill says a good trick is to lean the wooden spoon against the pot because this makes it easier to churn.
After the popcorn is coated in caramel it was time to take the kettle and pour it into the containers they have in the front of their store. One of the final steps, putting it in tubs and sealing it for shipment! Bill says they offer tins in all different sizes and designs and get requests from all over the world!
Next week On the Job, 47 ABC heads to One More Rep in Salisbury.