Motorcycle Santa gears up for Christmas quest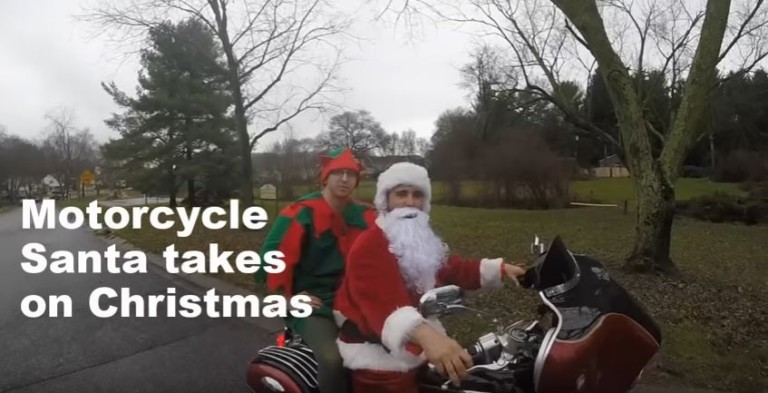 Two Delaware Marine Corps Veterans are gearing up for their annual Christmas ride, but need some help. Their purpose – to spread some holiday cheer on Christmas morning.
Rocco Malin and Jay Knowles are dusting off their Santa and Elf costumes, getting ready to hop on a motorcycle, and deliver presents to kids and adults across Delaware, capturing it all on video, just as they did last year.
They gave toys to children in neighborhoods, grocery store parking lots, gas stations, and even gave gifts to some very excited adults – all made possible by spending hundreds of dollars of their own money.
Rocco says the reactions from unsuspecting kids, and even some adults, were nothing short of amazing. "I had numerous sources reach out to me after that, offering to donate what they could to make next year more prosperous, so I decided that a go-fund-me was the best way to do that. This year, we are in the works to build a rolling trailer that will attach to the motorcycle that mirrors the image of Santa's sleigh so that the guys will be able to fit many more gifts for unsuspecting kids around the region," says Malin.
The duo says one-hundred percent of donations will go towards helping to build Santa's sleigh and to purchase as many gifts as possible. Santa and his Elf will be suiting up Christmas morning, aiming to make many kids Christmas's a little brighter.
For more information or to make a donation, visit their gofundme page, where Rocco and Jay have raised $2,500 of their $10,000 goal in less than 10 days.