Delmar Punches Ticket To Title With Dominate Win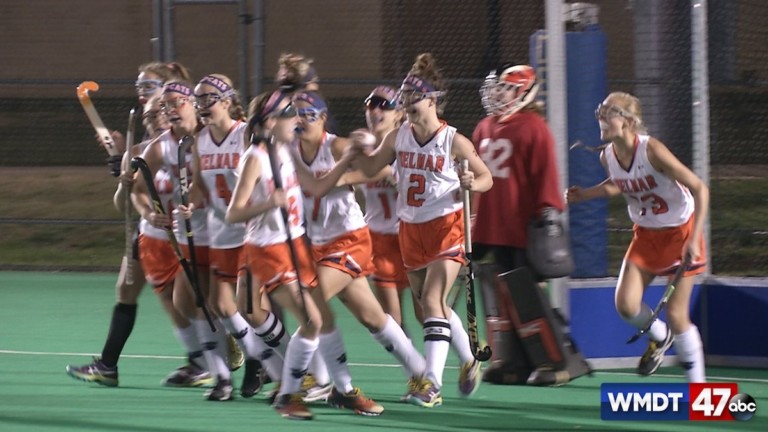 Delmar started this season with the goal of capturing the programs first DIAA Field Hockey State Title. Friday night, they'll get their shot against Tower Hill. The Wildcats dominate from the opening hit in their semifinal showdown with Polytech Tuesday night, earning a 2-0 win. Delmar scored early, then flexed their defensive muscle by holding the Panthers to without a corner or a shot in the match.
Delmar looked to be on a mission early on. Great ball movement would quickly move the ball up field and into the Panthers circle. Delmar would draw a corner just over a minute and a half into the match. The insert would go to Caitlyn Wink at the top of the circle who would step into a shot and fire it home. The Panthers seemed to come alive defensively from there, as their back row dug in. The Wildcats would dominate the possession the rest of the half drawing 6 more corner, but Polytech would turn each of them back. The Panthers had been on a magical run through the tournament and showed why, leaning on their tough defense. The 'Cats then finally drew another corner and nearly pushed their lead to 2-0. The insert would find Ashlyn Carr, who would hit a slap shot on frame. The aerial would find the back of the cage, but would be over the wood frame without making contact with another player, negating the score by rule. Delmar would settle for a 1-0 lead at the break, but continued to push in the second half. With 21:05 left in the match, Carr would dribble up the right side, and send a shot to the far post that rolled through the circle and just went inside the far post. Delmar then nearly added another score on a 2-0 break away, but Polytech's defense would rise to the occasion. Holly Rembold would make an incredible diving save to keep her team in it. Delmar though continued to attack, and while they weren't able to find the back of the cage, they controlled the possession and ran out the clock.