Blue Angels, looking back on an emotional year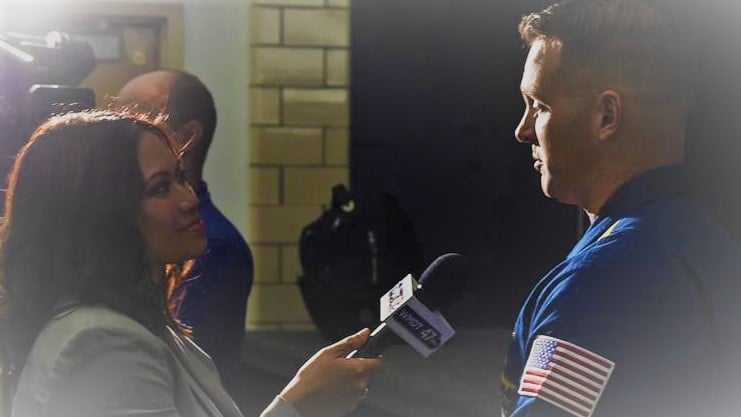 2016 is a big year for the U.S. Navy Blue Angels. It's the 70th anniversary for the military demonstration team. But it was emotional, not just because of its historical significance. The team is still recovering from a devastating loss.
Two and a half months into the 2016 performance season, the team lost one of their pilots in a catastrophic crash. The shock and pain resonated across the country.
In a 47 ABC Special Report, Emily Lampa followed up with the team to find out how they're doing now.
Major Mark Montgomery, took time to speak with the 47 ABC news crew during Maryland Fleet Week in Baltimore. Maj. Montgomery is new to the Blue Angel team this year.
He flies the C-130 Hercules nicknamed the "Fat Albert".
We spoke with Montgomery after a community event with students at Kenwood High School in Baltimore County. He admits it's the commitment of fans that lifted the Blues up this summer after tragedy struck.
"It's hard," admits Maj. Montgomery. "I still watch them take off and can still get a little bit jittery at times, just with the memory of that."
The afternoon of June 2nd, during the team's first practice for the Great Tennessee Air Show, U.S. Marine Corps Captain Jeff Kuss crashed the F-A 18-C jet he was flying shortly after takeoff.
The Navy investigated and determined the Blue Angel Number 6 crash was primarily due to "pilot error".
When transitioning from a takeoff maneuver, the aircraft was quote "simply too low and too fast" to avoid hitting the ground. Captain Kuss attempted to eject but was unsuccessful.
Major Montgomery, "It's getting better every day. So, the healing process is real, and you go through the anger and the sadness and remorse and all the guilt and everything…you see all that, but each day you look out and you look at all these fans and all these kids, and this is what helps."
The Blues took some time off to mourn the loss of their friend and team member. They cancelled the rest of their air show dates in June. But they returned to the skies July 4th weekend for the National Cherry Festival in Traverse City, Michigan.
It wasn't only the fans that supported the Blue Angels through their tough season this year. In Part 2 of this Special Report, we find out how the air show community rallied behind the blues in their time of need.