Air show community lifts up The Blue Angels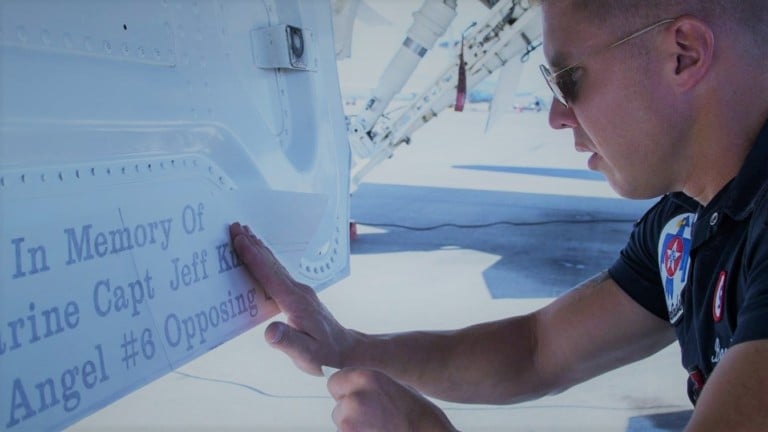 The U.S. Navy Blue Angels are now in Pensacola, Florida. Their 2016 air show season is a wrap.
Although their shows were exciting and successful, it was a turbulent year.
In the first part of our 47 ABC Special Report, "Feeling The Blues," we introduced you to a Blue Angels pilot who shared how fan support helped them through the pain of losing a friend and team member this summer.
And in Part 2, he explains how the air show community rallied around them, as well.
"There was a period after June 2nd that I kind of had to stay off of Facebook and Twitter because it was heart-wrenching."
Major Mark Montgomery is talking about all the tributes online. People remembering U.S. Marine Corps Captain Jeff Kuss through pictures, videos and words of consolation.
"It was amazing to see the support. But, it was just, you'd see these things. You know, the snow birds did a tribute. The Thunderbirds…lots of fleet squadrons had put the six on their jet. People had sixes on everything. The support, it was amazing. But to me at that time it was it was heart-wrenching."
But Maj. Montgomery admits time has healed some of those wounds, "We're good. We're tight. We've gone through a lot, so any kind of…you go through bad stuff together, it brings you closer."
The flight demonstration teams, from the Blues, to the Thunderbirds, and the Geico Skytypers, essentially work together to be a bridge between the military and civilians.
The Blue Angels mission, "to showcase the pride and professionalism of the United States Navy and Marine Corps by inspiring a culture of excellence and service to country through flight demonstrations and community outreach."
Although being so close to the community and being celebrities can be fun, being a blue angel is military service. And each member of the team acknowledges it's inherently dangerous.
Maj. Montgomery addressed the risks with students at Kenwood Highschool in Baltimore County during one of their community outreach events. He admitted there have been 26 deaths in the organization's 70 year history.
Ret. Senior Master Sgt. Erick Stone is the Air Force Junior ROTC Instructor at Kenwood. He flew with Capt. Kuss in their civilian ride along program in 2015. He used to fly a C-130 for the U.S. Air Force. "As aviators, and again I certainly didn't fly a fighter jet or anything, but you understand there is a level of danger in these assignments. And you do what you can do, you're trained very well, and you respond accordingly, however the flying is dangerous and we all accept that."
Each blue angel pilot is selected from the ranks of the U.S. Navy and Marines. They're part of the performance team for two to three years and then they return to the fleet.
"I was fortunate enough to get selected and it does mean a lot," Maj. Montgomery tells 47 ABC with a smile.
"The officers are selected because they're very personable," explains SMSgt. Stone. "They're very skilled, they're very proficient, and they present the image that the military wants to present."
And Maj. Montgomery says his team will continue to honor their fallen angel, for all those reasons and more, "You know, each day, we make sure the flights are the way he would want them. He was always hard working. He was always in there, first in, last out. And you know, we make sure we try to emulate that, each day with the flights."
U.S. Marine Corps Captain Jeff Kuss is survived by his wife and two children.
During 47 ABC's Emily Lampa's flight with Capt. Kuss in 2015, they spoke at length about his love for family, job and country.
47 abc aired a tribute for Capt. Kuss the day of his crash. You can watch that video by clicking here.