Today is Pick a Pal Day!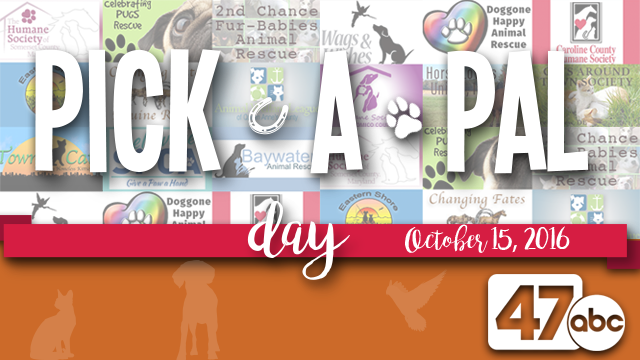 It is Saturday, October 15, and that means it is Pick a Pal Day! 47abc has teamed up with more than a dozen animal adoption organizations around Delmarva for this special day.
Participating groups are offering all sorts of deals, discounts, and freebies, if you adopt today on Pick a Pal Day! Head out to your local shelter, or make a trip to one not so nearby, and you may just find the perfect furry friend to join your family, while saving a few dollars.
There are rescues across Delmarva participating. Click here to view the full list! Just click through to see the organization's page, featuring adorable faces of those looking for forever homes today.
Follow us on Facebook, Twitter, and Instagram, to keep up with all the #PickaPalDay action. We'll have special cameos from animals looking for homes, and be chatting with officials.
If you adopt a new family member today, be sure to send us your photos to newsroom@wmdt.com!