Pocomoke Middle School looks to change perception of school lunches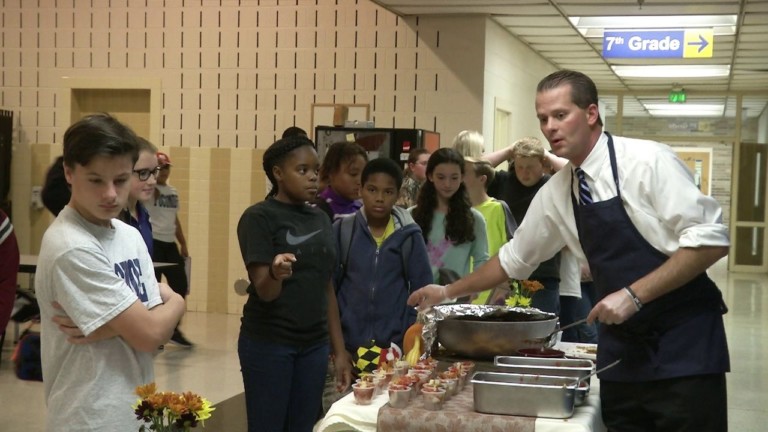 Despite recent progress, school lunches still carry a good deal of infamy, but one school in Worcester County is looking to change the perception of school meals in a fun and unique way.
Wednesday afternoon, school officials sliced, diced, and served school meals with a twist, but this wasn't any ordinary school lunch. This was part of a competition called the 'Sauce it up challenge' that aims to win over the taste buds of Pocomoke Middle School students using healthier food options.
"They're actually taking the time to see what can be better in this school and I really love that," says Raquel Ndirangu, a seventh grader at Pocomoke Middle School.
During lunch, Odtis Collins, the Coordinator of Food Service at Worcester County Schools and Matthew Record, the principal at Pocomoke Middle School, went head to head in creating the best tasting meal that's also a healthier alternative to the current food served at the school.
"It was all about healthy choices and options for the students," says Record.
Mr. Collins served a chicken sandwich with veggies and a homemade sweet potato spread that he says is made out of healthier ingredients than processed condiments like ketchup or mustard. On the other side, Principal Record served three versions of salsa; one with added tomatoes, another with extra peppers, and a third one with chopped pineapple, however  only one could win the golden spoon, and the students chose…Mr. Collins.
"I'm glad to be the winner, so that means we are going the right direction with my department," says Collins.
Although Principal Record didn't win,  he tells 47 ABC Wednesday's competition is a win in regards to bringing healthier food to his school.
Pocomoke Middle School is not the only Worcester County school getting healthier food options. Mr. Collins tells 47 ABC  is working with Snow Hill High School in adding 'grab and go' food options for students in the near future.