Orbital ATK on successful launch: "Very proud of the team"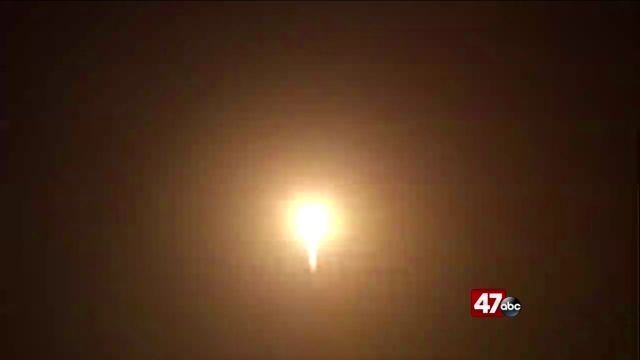 Flames spewed underneath an Antares rocket Monday night, as it successfully launched from NASA's Wallops Island Flight Facility.
The rocket, manufactured by Orbital ATK, is carrying roughly 5,100 pounds of cargo in the Cygnus spacecraft. It is meant resupply the International Space Station ('ISS'). It took off at 7:45 p.m., just five minutes past its intended flight time of 7:40 p.m.
According to NASA, the unmanned rocket had entered space as of 7:55 p.m., with Stage 1 separation occurring at 7:49 p.m. This was followed by a Stage 2 burnout at 7:53 p.m.
At a press conference after the launch, Frank Culbertson, president of Orbtial ATK's Space Systems, referred back to October 2014 when an Antares rocket last launched from Wallops Island. The rocket, also carrying thousands of pounds of cargo to the ISS at the time, exploded seconds after lift-off and resulted in 15 million dollars worth of repairs to the launchpad.
According to Culbertson, Monday's mission required absolute confidence from the crews.
"As we got into the last ten minutes of the countdown, they were going through things very carefully and the launch conductor decided he wanted to take just a little bit extra time and make sure we didn't skip anything, miss anything, make any mistakes," explains Culbertson.
Monday's launch marked the largest payload aboard a Cygnus spacecraft to fly from Wallops Island.
According to Culbertson, Cygnus will have to hang around in orbit until Sunday morning before making the delivery. This will give three astronauts time to launch from Kazakhstan and get to the station.
"I'm very proud of the team. They've done a fantastic job getting ready for this flight, putting everything together," he tells 47ABC.
There are also a number of experiments that are a part of this mission, including Saffire II. The purpose of that mission is test how flames and fire grow in space.
The Cygnus spacecraft will remain at the ISS until November before its destructive reentry into Earth's atmosphere, disposing of about 3,000 pounds of trash.
As for Orbital ATK, Culbertson says they have six more missions planned to launch from NASA's Wallops Island Flight Facility in the future.