Innagural 47abc Pick a Pal Day deemed a success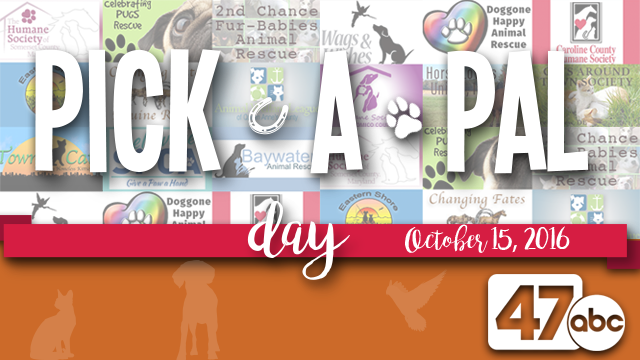 We talked about it all month, and Saturday was the big day, Pick a Pal Day! 47ABC teamed up with animal adoption organizations across Delmarva, to offer adoption discounts, deals, or freebies.
We're hearing some good numbers from most participating groups.
The SPCA Eastern Shore in Accomack County says they had six adoptions or approved adoptions for the week, which is about triple their normal rate.
We spent some time at the Worcester County Humane Society on Saturday, that footage can be seen on our 47 ABC Facebook page, and they too are reporting fantastic numbers for the event!
Above, you can see Susan Semancik who took "Nugget" home on Saturday, thanks to her early application. Her's was one of many applications submitted.
Jessica Summer, Adoption Coordinator at WCHS, says "We have so many cats, that we can't even post them all. So, we definitely encourage people to come out, spend some time. Especially with the kitty cats. People always say that the pet finds them. So come into one of our communal cat rooms, hang out with the cats, and see who you fall in love with."
Officials with WCHS said that they had applications put in, and taken home for many of the animals that we featured on our social media. So hopefully there is even more good news to come!
Town Cats of Ocean City and Cats Around Town Society, also reported good cat adoptions for Saturday. Celebrating Pugs told 47 ABC that they had an adopter come from West Virginia to bring home one of their dogs, Samson, on Saturday.
Baywater Animal Rescue in Cambridge says they had 5 applications for adoptions which are still in foster as of Wednesday! They are Oliver, Gizmo and Cinnamon, Henry and Legacy.
Doggone Happy Animal Rescue in Delaware tells 47 ABC that they had an amazing day, with several meet and greets scheduled for the event. They ended up with 8 adoptions.  All were awesome families and the dogs are now living a great life!
Even Changing Fates Equine Rescue in Laurel said they had a good turnout, with a potential adopter stopping by with a saddle to ride the horse he was interested in!
Such great news for all the furry friends, and organizations! If you adopted over the weekend, we'd love to see photos of your new family member! Send us an email to newsroom@47abc.com.