ACT, SAT scores and PARCC data released for class of 2016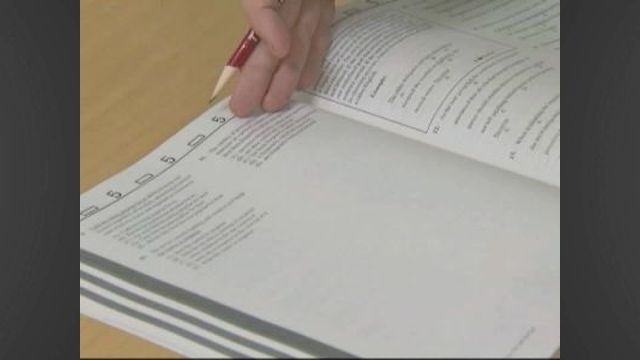 According to a release from the Maryland State Department of Education, student scores on the ACT exam hit a new high, while scores on the SAT exam fell slightly, both for the class of 2016, and the PARCC results remained the same as last month.
The places where the Maryland SAT scores are recorded to have dipped slightly are as follows:
Dropping 2 points in critical reading to 490
Dropping 4 points in math to 490
Dropping 4 points in writing to 476.
Maryland student participation in the current version of the SAT was also reported to have fallen, as the College Board began testing a new version of the exam with students.
On the other hand, Maryland participation and success in the ACT assessment  is on the rise. MSDE officials say that more than 1/4 of Maryland's graduating seniors took the ACT last year, according to data released late last month-more than triple the number of students taking the exam in 2005.
ACT scores also continue to improve as Maryland's composite ACT score was recorded to have hit 23.0, compared to 20.8 for the nation, and the composite score was 20.5 in 2005, compared to a national composite of 20.9.
————–
SAT results as reported for the country are as follows:
Participation on the current SAT exam has dropped for the past two years, from nearly 50,000 students to 47,449, mirroring a trend found in other parts of the country.
Scores on the SAT assessments also have been on a decline for several years, both in Maryland and throughout the nation.  The critical reading score dropped 3 points nationally; while math dropped 4 points; and 5 points in writing.
The national mean score for 2016 was 494, compared to 497 last year; math mean score was 508 compared to 512; and writing was 482 compared to 487.
Because of these issues, the College Board says it is shifting its attention to "the new SAT", which has a new design and officials say is better aligned to other exams offered by the organization, such as the PSAT. College Board also launched a partnership with the Kahn Academy last year to provide free online tutoring services.
More than 36,000 students took the new version of the SAT between March and June of this year, and because of this transition College Board officials said that it is difficult to compare this year's results with previous years.
Specific SAT results are scheduled to be released on Tuesday here.
————–
ACT Results as reported for the country are as follows:
Officials say the ACT-has been making dramatic gains in participation, and having scores rise at the same time.
Nearly 17,000 Maryland students took the exam in 2015, compared to 15,753 last year and 13,334 in 2012, and the numbers of test takers have been on the rise across all race categories.  
According to the recently released data, Maryland's ACT scores improved in every subject:
English jumped from 22.3 in 2015 to 22.6 in 2016
Mathematics improved from 22.5 to 22.7
Reading increased from 23.2 to 23.6
Science moved from 22.5 to 22.8.  
Maryland students apparently rank ahead of the national averages in all four testing categories.  
National average scores are as follows: English, 20.1; mathematics, 20.6; reading, 21.3; and science, 20.8, and all four scores fell for 2016.
ACT results are available on its website.
————–
As far as PARCC data, this is information that is used to improve instruction in schools. It is a program in its second year.
"The PARCC results provide a valuable tool that our educators can use to strengthen classroom instruction," said Dr. Karen Salmon, State Superintendent of Schools. "When combined with other assessment data and evidence of performance, teachers can tailor their efforts to individual student needs."
According to MSDE, mathematics results reveal modest overall gains, while the english/language arts test scores showed little change.  
The PARCC exams are apparently considerably more rigorous than the Maryland School Assessment tests they replaced in 2015.
Education officials note that scores on the PARCC Assessment are not being used for student, educator, school, or system-level accountability purposes at this time, and Maryland is currently in the process of reviewing and revising its accountability system, under the new federal Every Student Succeeds Act.
PARCC assessments are scored on a five-point scale, with level 1 set as not meeting expectations and level 5 as exceeding expectations.  
The most recent data is said to reveals some interesting information about student performance for education MSDE officials:
Although the percentage of students scoring a 4 or 5 in English was essentially unchanged across grades 3-8, there were some encouraging signs. The percentage of African American students and Hispanic students scoring at that high level showed a small positive gain.
The percentage of students scoring 4 or 5 in English 10 went up across the board. Achievement by all racial and ethnic groups followed the same pattern of upward movement.
There also was improvement tallied in the English assessment results for students receiving special services.  Special education, Limited English Proficient, and students receiving free or reduced price meals all registered small increases in the percentage of students scoring a 4 or 5 on both the grade 3-8 exams and the English 10 assessment.
The percentage of students scoring a 4 or 5 on the PARCC mathematics assessment went up across all racial subgroups for both grades 3-8 and Algebra I.  All special service subgroup categories also showed improvement in the percentage of students scoring 4 or 5 in both grade 3-8 mathematics and Algebra 1.