Seaford students get big back-to-school welcome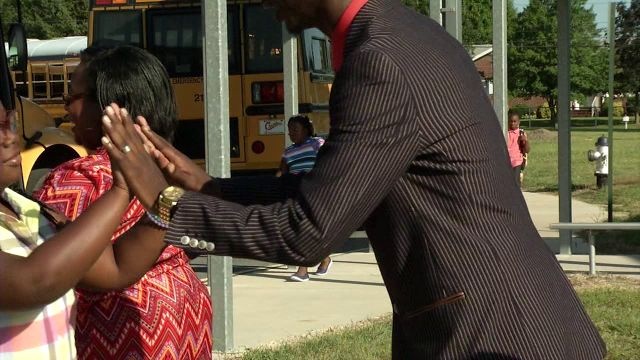 For the first time, groups of school officials and community leaders in Seaford celebrated the students' first day back by cheering them as they got off buses in the morning.
"We never had anything like this, and so I thought it would be great to have them dress for success for the students to see them come in," says Jeffrey Benson. "I think it will excite them."
Benson, a board member of the Seaford Board Of Education, the "100 Men Initiative" is inspired from a national back-to-school welcoming where officials would encourage kids as they got off the buses and into classes.
This year, four elementary schools within the Seaford School District participated: West Seaford, Central, Blades, and Frederick Douglass.
Back in March, the Seaford School District Board of Education voted to create two new attendance zones for the four elementary schools.
Under the new zones, students who live in the northwestern part of the district would attend West Seaford Elementary School from kindergarten through second grade. They would attend Central Elementary from grades three through five.
Those in the southeastern part will go to Blades Elementary from kindergarten through second grade and then to Frederick Douglass through fifth grade.
Michael Ryles, Jr., 7, is a second grader at West Seaford Elementary.
"I feel a little scared and a lot happy!" he tells 47ABC.
The transition to a new school, according to Benson, can sometimes be tough. This is why he says the initiative can help students start school on a positive note.
"It's new for them, it's a new face so they may be transitioning out of daycare or they went to a christian school to a public school, it is a little different but we wanted to make sure they knew that they are welcome," explains Benson.
As for Michael's father, Michael Ryles, Sr., he says any encouragement can help boost the kids' confidences.
"In the last couple of years, you didn't really see the superintendent and people like that out here but it's good to see them out here and supporting the different school systems and things like that," he says. "I hope they continue to do it."
According to Benson, the hope is to continue this initiative in the coming years
In Maryland, Wicomico Middle also welcomed their students with a similar greeting of encouragement Tuesday morning.