Out of the Darkness Walk on the Boardwalk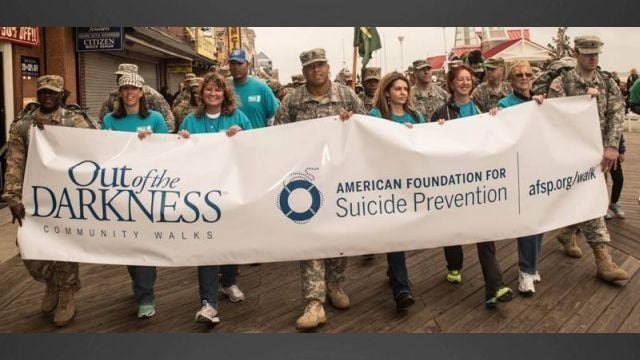 This fall, spend a morning on the Boardwalk to spread awareness about suicide, and provide comfort to those who have lost friends or family.
On September 24, the 5th Annual Out of the Darkness Walk to End Suicide will return to Ocean City. The annual event raises funds for the American Foundation for Suicide Prevention, and those funds are then used to teach suicide awareness and mental health first aid.
Several local organizations, including the Worcester County Health Department, invest the pledges generated by walkers in working to end suicide in Maryland and Delaware's coastal communities, where suicide rates are historically high.
As in years past, walkers will start at the band shell, at Caroline Street and the Boardwalk, with registration beginning at 9:00 AM, and after opening remarks by Senator Jim Mathias, the procession will walk solemnly to 10th Street, turn and walk to the Inlet, then back to Caroline Street.
Pledges collected by walkers and other Walk supporters contribute to the work of the American Foundation for Suicide Prevention, the leading national organization doing suicide research and suicide prevention outreach. A portion of the funds raised in Ocean City comes back to the local community in the form of grants.  
"The AFSP supports our work on the lower Eastern Shore by providing funds for materials and training for Applied Suicide Intervention Skills, for safeTALK suicide prevention workshops, and for mental health first aid, for example" said Brittany Hines, Coordinator of Special Programs for the Worcester County Local Management Board.
The four previous Out of the Darkness Suicide Prevention Walks held in Ocean City have reportedly brought in over $126,000 to support local and national efforts to reduce suicide. Volunteers are welcome to join the Planning Committee and assist on the day of the event.
Individuals interested in volunteering can contact Brittany Hines at brittany.hines@maryland.gov.
To learn more about the Ocean City Out of the Darkness Walk, to raise your personal pledge team, or to pledge on behalf of an existing team, visit  the AFSP website and click on Out of the Darkness Walks.