Gov. Hogan and Comptroller Franchot encourage shopping during Tax-Free Week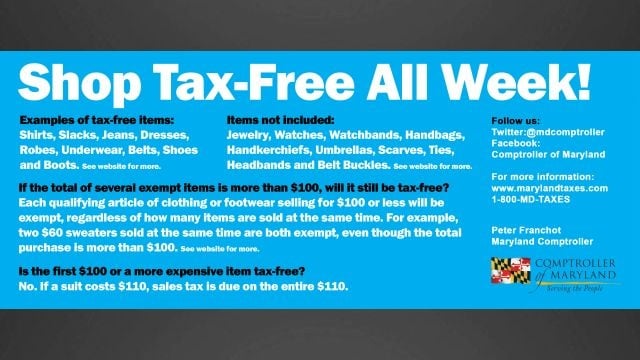 Governor Larry Hogan is set to join Comptroller Peter Franchot in Frederick on Wednesday, August 10, to promote the annual Shop Maryland Tax-Free Week.
The tax-free week takes place from August 14-20, and during that week, any single, qualifying article of clothing or footwear priced $100 or less, regardless of how many items are purchased at the same time, will be exempt from the state's six percent sales tax.
Comptroller Franchot commented on the event saying, "I'm delighted Governor Hogan will join me to let Marylanders know about an opportunity to keep more of their hard-earned money as they shop back-to-school sales for their children or themselves. A break on the cost of clothing and shoes can make a real difference and help stretch family budgets. Local retailers also benefit with increased foot traffic."
In addition to Frederick, the Comptroller will be promoting Tax-Free Week with visits to stores in Takoma Park, Baltimore, Frederick, Towson and Cambridge. Cailey Locklair Tolle, president of the Maryland Retailers Association, or Maddy Voytek, legislative and membership assistant at the MRA, will join the Comptroller at several businesses.
"Tax-free week is an excellent opportunity for Marylanders to take advantage of apparel and footwear tax savings priced at less than $100 per item," Tolle said. "The week provides a much-needed boost to brick-and-mortar retailers in our state and we encourage all consumers to support their local businesses."
This tax-free week is the result of legislation that was passed by the Maryland General Assembly in 2007, and is held annually during the second week in August.
 
Also, businesses selling items that are not eligible for inclusion in the tax-free week can still participate in Shop Maryland. Under "Sellers Privilege," other unqualified merchandise can be sold tax-free, but the retailer is responsible for paying the sales tax owed to the state.
For more information on qualifying items, visit the Comptroller of Maryland's website, e-mail taxhelp@comp.state.md.us, or call 410-260-7980 in Central Maryland or toll-free at 1-800-MD-TAXES.