Eastern Shore businesses reaching out to Ellicott City flood victims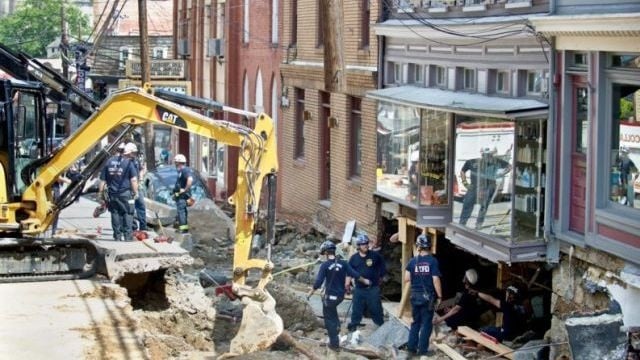 It's been more than two weeks since flood waters tore through Ellicott City.
"There's so much happening, my mind is everywhere. At this point, we are really just trying to move forward," says Mojan Bagha. He's the owner of Main Street Oriental Rugs in Ellicott City.
But for the past few weeks he's been running his business out of the back of his car after the flood waters took over his store.
On Saturday July 30 about half a foot of rain fell within two hours, creating a flash flood that resulted in decimated sidewalks, streets caved in and storefronts gutted in downtown Ellicott City. The flood waters are now gone, but the disaster is still far from over. All of Main Street remains completely blocked off. The protocol for current business owners to retrieve things from their shops is to first put in a request through the City. Once approved they then get a maximum of two hours to pick up their things.
"They have a lot of independent merchants that are downtown in Ellicott City and their whole livelihood and families are based on whatever they can produce in those small store fronts." said Ross Benicasa, manager at Easton Business Alliance. "If they have to close for six months to a year because of the flooding, there's really nothing else to fall back on."
After hearing about the struggles in Ellicott City, this group on Delmarva is now working with its counterparts to donate 20-percent of their 2016 revenue to the independent merchants in the downtown area.
"I think sometimes on the Eastern Shore we might feel a bit isolated. Here we feel like we're maybe not a part of that community, but helping them is extremely important to us," said Ross.
Bagha admits he was recently able to move his business out of his car and into a small rental but he says even that won't work for long. And for the folks in Ellicott City any and all help is welcome. Red Cross officials tell us they have spent over $50,000 thus far, administering ongoing aid to the victims.
Additionally, the Chesapeake Bay's Red Cross Regional Director Scott Salemme tells 47 ABC that they just sent a team of people out to Louisiana to assist with the disaster disaster happening there.
"It's the largest single disaster since Hurricane Sandy. The size and scope of what's happening in Louisiana is absolutely a mess but we are doing everything we can for the victims," said Salemme.
For anyone that is interested in donating to the Ellicott City or Louisiana disasters, please visit the Red Cross page.