Children's lemonade stand raises over $10k for local family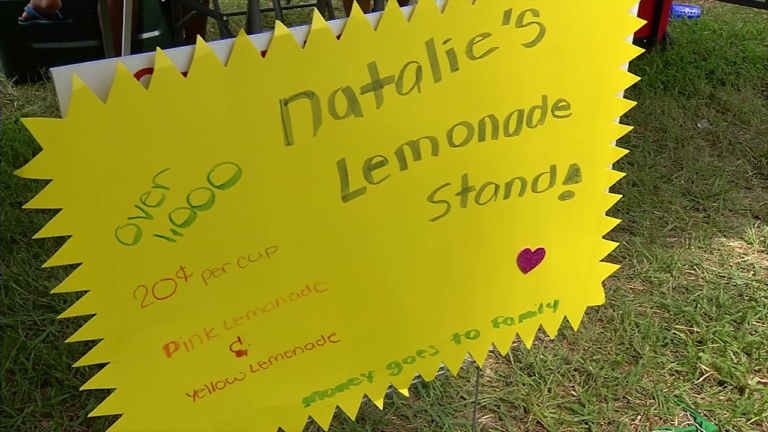 The possibilities are endless for a child in the summer.  They could go to the beach or play at the park, but Riley and Kayleigh Krater wanted to give back. So  they hatched the idea to start a lemonade stand and donate their proceeds to the Insley family.  17 year old Natalie Insley of Hebron, Md. tragically passed away Monday in a car crash, and 100% of the proceeds from the lemonade stand goes to her family.
So Riley and Kayleigh did what any startup business would do and went to stock up on supplies. It started out with just 2 small jugs, one of lemonade, and one of pink lemonade. They set up their table and wondered about how many customers they'd get coming by their house.  Their mom Kim says they were hoping to get around $25.  When 47ABC was at the stand in Delmar on Friday, Riley proudly reported they had about $12,000.
Since the lemonade stand got traction, reinforcements were brought in.  The neighborhood kids banded together to get an abundance of goods to sell to those who pass by. From watermelon and baked goods, to chips, ribbons, and of course, the staple of the business – lemonade.  Riley and Kayleigh's dad Rob says "it started out just an idea, then their friends just took it and went crazy with it."
The cash continued to pile up since the stand opened Wednesday morning. They went from selling lemonade for 20 cents a cup, to receiving donations in the thousands of dollars.  Rob Krater says "The community kicked in and then businesses were donating and it was amazing." One of those businesses was Exotic Sound & Tint, whose owner Kerry Thomas was at the stand when 47ABC's team was.  He says "I have kids of my own" empathizing with the Insley family, adding "in a time of need the community comes together."