"The President and the People: a National Conversation"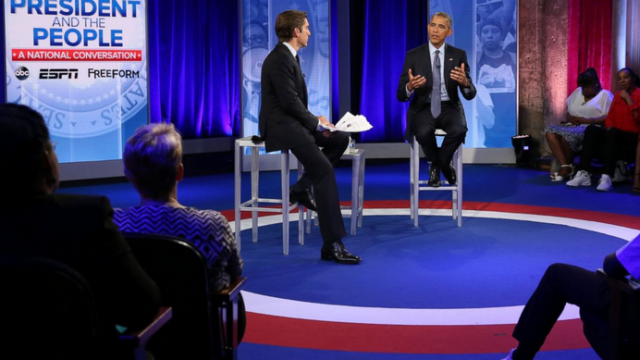 President Barack Obama addressed the nation on Thursday evening,  taking part in a special town hall meeting organized by ABC and hosted by David Muir.
The special, called "The President and The People: A National Conversation, addressed recent gun violence in the nation, as well as the growing tension among Americans.
The hour-long special focused on a growing tension between law enforcement and members of the public. Family members of victims, concerned mothers of police officers, as well as state leaders got to ask the president direct questions about what needs to be done.
President Obama touched on statements he made after the recent police involved shootings, explaining that data shows black people are statistically targeted by law enforcement.
He claims that those discrepancies are what makes people feel they are being treated unfairly, and those discrepancies need to be addressed.
The President added that inspiring hope in communities where there is more violence will lead to more trust in police.
You can find a recap of the Town Hall meeting here: http://abcnews.go.com/US/president-obama-urges-police-communities-town-hall-us/story?id=40584530