Smelly final destination of OC horseshoe crabs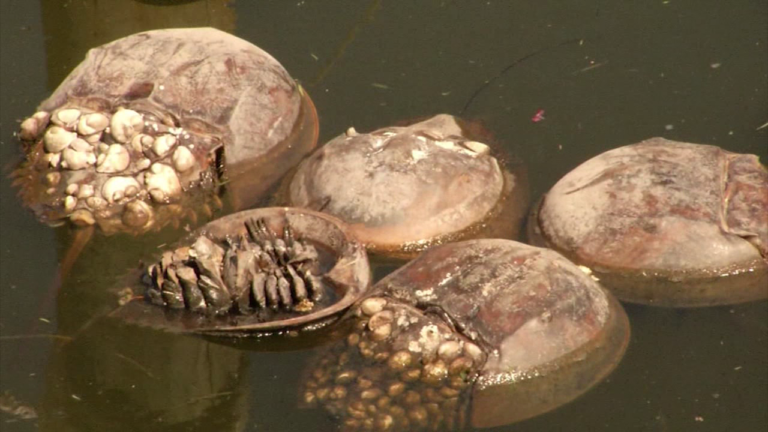 The Department of Natural resources is calling it a natural disaster but the residents and vacationers at Nassau Village in Ocean City are calling it, down right disgusting.
Tuesday was the last day of horseshoe crab clean up. Nearly 10 volunteers and residents came together to lift over 200 carcasses out of man- made canal in between Nassau Village town homes. They filled up nearly three 300 gallon trash bins that were dropped off and picked up by Public Works. 
47 ABC took a trip to Berlin to speak with Sandi Smith, marketing director of Coastal Bays, to get some answers about these sea animals. 
"It's honestly just science and nature – a natural occurrence really." said Smith. "It's mating season for these crab and 10% of the older crabs die from the stress of it."  
Smith tells us that it's not uncommon for the older crabs to die off during this time. However, man-made canals make it hard on surrounding residents because there's no circulation to push the dead crabs back out into the sea.
"I tried to take as many crabs out of the water as I could but for every 10 I took out, 15 more popped up." said a Nassau Village resident. "I'm just thankful that we were able to get some help from public works as well as work together as a community to get this taken care of."
Residents first started seeing the horseshoe crabs around the fourth of July but didn't worry much about it. They said living on the water comes with these types of occurrences but when a few crabs turned into hundreds – they started coming up with a plan. 
Monday morning OC Public Works came out and picked up bags of dead crabs that residents put on the street and additionally dropped off a 300 gallon trash bin.
Currently, there are no crabs left in the water and the residents can have what looks to be an "odor – free"  rest of summer break.