Parents of #DormanTheDelcoLegend speak with 47 ABC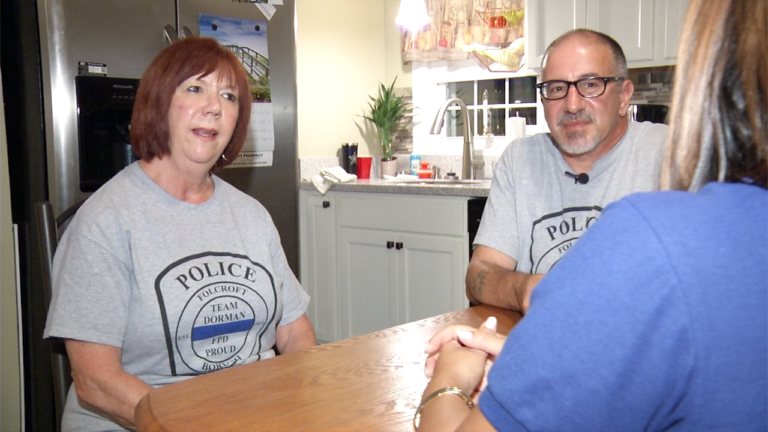 #DormantheDelcoLegend is the hashtag now associated with Christopher Dorman, the Folcroft Police Officer shot seven times last month and survived.
His amazing recovery continues to astonish doctors, friends and family.
The 25 year-old from Delaware County, Pennsylvania is now known all over the world, but what many people may not know is that his parents live on Delmarva.
Thursday night, 47 ABC's Emily Lampa sat down to talk with his mom and dad at their home in Pot Nets. They shared not just how their son is doing now, but also their gratitude for the all the support they've received since the day Chris was shot.
"He's doing fantastic. He comes and goes as he pleases. He does what he wants. Huge, huge thank you," Jeanne Dorman said with a smile on her face. "The brotherhood all came together for us. It overwhelms me."
Jeanne and George Dorman admit it's hard to believe that just about 1 month ago they were wrapped up in the most frightening day of their lives.
On the morning of June 24th, 2016, Jeanne got the call at Bebee Medical Center in Lewes, where she works.
It was her daughter calling to tell her that her son Chris, her youngest child, was shot seven times in the line of duty.
"Everything kind of just went a blur at that point," explains Jeanne. "I didn't know what to do."
It was in this moment of need that Jeanne says some local heroes came to her aid, "I was met at the hospital by the chief of Lewes police, Tom Spell." Jeanne says he brought another officer to wait with her, while Delaware State Police sent their helicopter to transport her from Beebe Medical Center to Penn Presbyterian Hospital. "They sat me down and explained to me what they knew…how much they knew, and that he was stable. So they calmed me with that.
"Then I was met at the helicopter, by Sgt. Paul Shavack, and he was wonderful," said Jeanne about the moment Delaware State Police arrived with the chopper. The flight, she explained was only about 45 minutes, but it seemed excruciatingly long. She said, what kept her steady was the presence of Sgt. Shavack. " He walked me in, all the way down to the emergency room, where Christopher was."
And what she saw, she admits is still painful to recount, "He had a tube down his throat. And there was a lot of blood. There was a good bit of blood. And you could see, his face was open. So that was…I don't even know how to describe it."
George tells 47 ABC the suspect who shot Chris reportedly fired more than a dozen rounds at him. It appears doctors believe, after looking at the impact on Chris' bullet proof vest, at least 3 of those shots could have been fatal had Chris not been wearing that protective gear. Of the seven rounds which did hit him, one went through his right nostril, through his septum, and out through his cheek. The other bullets all resulted in flesh wounds.
"(Chris) got into the police vehicle under his own power," explains George. "They drove to the hospital. He got out of the police vehicle under his own power, into the hospital under his own power."
"Angels were watching over him that day," added Jeanne. "Any one of those bullets could have hit something major, and he didn't even have a chipped tooth."
After a number of surgeries, Chris was released from the hospital on Monday, June 27th. That's just four days after the shooting.
"I'm shocked," states George. "I think the hospital and the medical staff are shocked."
Chris had a number of surgeries since then. He recently had a skin graft from behind his ear to fix his nose. And through all of this, Chris refused prescription pain killers.
Jeanne says this is because of the ongoing prescription opioid and heroin crisis. She says Chris remains adamant about not taking drugs for pain, "He's never followed the crowd. He's always been his own person."
Chris' parents say he's not the kind of person that does well just sitting around. When we asked how Chris is reacting to this recovery time, George says Chris wants to return to work as soon as he can, "As he puts it, 'Dad, I'm a cop.' And he's ready to go back out and be a police officer."
Although the shooting shook this family to the core, they admit they would never stop Chris from doing what he loves.
"Honestly, I was really hoping that it wouldn't break that in him, because he's so good at it," Jeanne tells 47 ABC. "I believe it's a calling. I'm happy, and I'm proud that it hasn't changed his heart."
Jeanne and George Dorman say considering the recent police violence and concern over police brutality across the nation, they're hoping their son's story and the support they've received is something positive that can counteract all the negative headlines.
Although Chris has about six to seven surgeries still ahead of him, his family says they believe there's a chance he could go back to work by mid to late August.
We're told Chris will be in Delaware this weekend. 47 ABC will have that story on Saturday.