ECI inmates learn to be better parents while locked up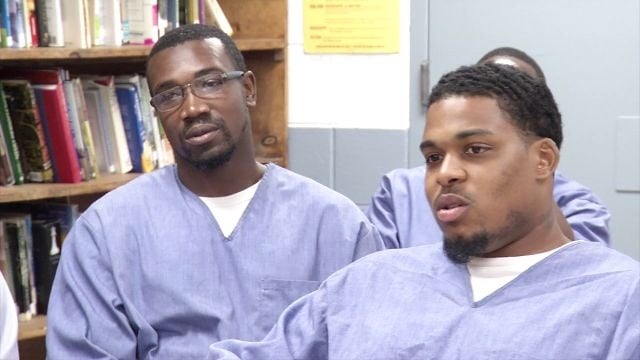 Parenting is no easy task, but being a parent when you're locked up in prison is makes that task even harder. To help with that, Eastern Correctional Institution (ECI) in Princess Anne, Md. offered a parenting class for the first time ever this year. The goal, to give fathers the skills to be better parents while they're behind bars and hopefully when they get out.
The program is funded by the Somerset County Local Management Board, but the classes are taught by members of Eastern Shore Psychological Services (ESPS).
Dawn Scher, a program administrator for ESPS taught the eight week course at the prison.
"We talk about having that parenting tool belt and so when we hopefully walk away they have a whole tool belt or tool bag full of things to use before they use any physical punishment or discipline," Scher said.
The class is optional, meaning everyone in the class signed up to take it.
All of them motivated by the same force that pushes them to rehabilitate and get out, their kids.
"You think about (your kids) everyday, all day every day. When you go to sleep like 'man I didn't get to kiss her, I didn't get to tuck her in tonight' it's very difficult being here," said inmate Dustin Vass.
The eight week class is the same one that ESPS offers outside the prison walls.
Scher said regardless of where her students are though, the issues she hears from them are often the same, how to raise teenagers, communicating with your partner, how to discipline your children.
Scher said unique to her ECI class, is how to be a role model to kids despite whatever crime they've committed.
Something inmate Jermaine Lowery is taking to heart.
"I'm just here to teach (my kids) that you can make a mistake and still be a good man in the process and don't look at the things that I've done, just look at who I'm trying to be," Lowery said.
Lowery said he and his wife recommitted to their relationship in March and since the classes started in May he said his wife has noticed a difference and has begun including him more in their son and daughter's lives.
"She sees I'm more, I'm talking to them more, instead of yelling at them more. So now she lets me be involved more and she tells me more that they're doing so I can help her with the process she's going through while I'm locked up," Lowery said.
Inmate Daren Tingle Jr. said he believes he's also learning a lot.
His three kids are too young to understand that dad is in prison, but he said he doesn't want to waste any time teaching them to be better people than he is.
Tingle said his dad wasn't around for his childhood and he wants to do better.
"I want to be that active parent man because it shows like when I talk to my son and my daughter over the phone they really grasp (it). I be like sit down, I get on the phone and be like why don't you sit down and listen to your stepmom let her know that you're going to be obedient to her so you can get some cakes, some ice cream, you never know what you might get rewarded with just for listening," Tingle said.
With the class finishing this month, the question now is whether these skills will stay with them.
According to Vass though, that won't be a problem.
"Oh yeah, absolutely, I'm taking the books home. I promise," Vass said. "I'm absolutely going to take them all and use them best as I can."