Dover church leads mission trip to Honduras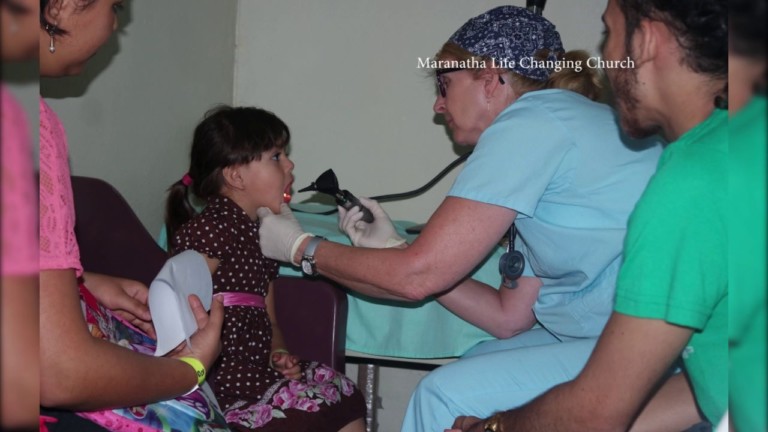 For some of us, arranging for a yearly check-up or medical advice can be just a phone call away, but for residents living in countries like Honduras  the closest place to get medical attention can be hours away. However, two pastors from a local church are looking to change that. Pastor Ennio Zaragoza and his wife, Dr.  Maribel Zaragoza, led  a medical mission trip with their church and a team of doctors to remote areas in Honduras one week ago. However, the Zaragoza's are no stranger to medical mission trips. The pair prepped for their trip by collecting medical supplies since  January with the help of their community, the Maranatha Life Changing Church in Dover.
"We go to places that are very rural communities that I know they have not see a doctor in their life. The doctors they only see… is us,"says Dr. Zaragoza.
Th doctors and church members came back from their trip last week, were they tended to patients who were in need of physicals, dental work, stitches ,and even those who needed to see specialists.
We have referrals to doctors for children who could not do good work at school because they can't see. So we provide glasses for them. We provide surgery. We provide x-rays, mammograms, to diagnose cancer," says Dr. Zaragoza.
The Zaragoza's tell 47 ABC that in just four days they saw approximately 1,300 patients.  However, they admit there were difficulties operating out of a rural clinic.
Pastor Ennio Zaragoza tells us they had to operate off a generator during their time being and had limited access to good water. Which then  leads to their next project, finishing the construction of a new clinic in Honduras that will allow them to continue their trips.
"It was amazing because  this was able to help the city, the patients, but also its going to be a connection that will be everlasting because we will be able to go next year  and use the clinic as well," says Dr. Zaragoza.
The Zaragoza's  tell us they now are looking into sending a shipping container with medical supplies for their new clinic. For people interested in  getting involved in their next trip to Honduras or their upcoming trip to Haiti at the end of August, you can contact Dr. Zaragoza at (302) 632-0589 or click here.