9-year-old Ocean City girl reportedly sets fishing record near Assateague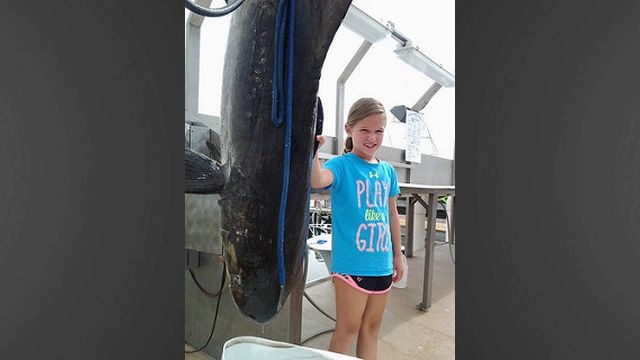 An Ocean City girl has reportedly set a new state fishing record.
According to the Maryland Department of Natural Resources, when 9-year-old Emma Zajdel of Ocean City, her father Ed, Robert Clark, and a friend went out near Assateague Island to catch blue fish, Emma set the hook on a 94.6-pound cobia.
After feeling like she could have gone over the side, Emma says following a 20 minute battle, she reeled the fish in. Before icing it down, Emma's father says he and Robert Clark had to wrestle the fish into a fish box. When the Zajdel's took the fish to Sunset Marina, a biologist told them that the fish measured in at 66.5 inches in length. Emma, on the other hand, is 52 inches tall.
The Maryland Department of Natural Resources says the cobia was caught where there are no restrictions on catching and keeping cobia, and that Maryland keeps records for sport fish in the Atlantic, Chesapeake and freshwater.
Emma's catch of the cobia could get the record for a new International Game Fish Association Small Fry for a record caught by a fisher under the age of 10. The current record is reportedly 48 pounds.
Emma beat out the previous state record set by Jack Latimer of Potomac, who caught a 79-pound-cobia in 2014.