Structure fire tears through Crisfield business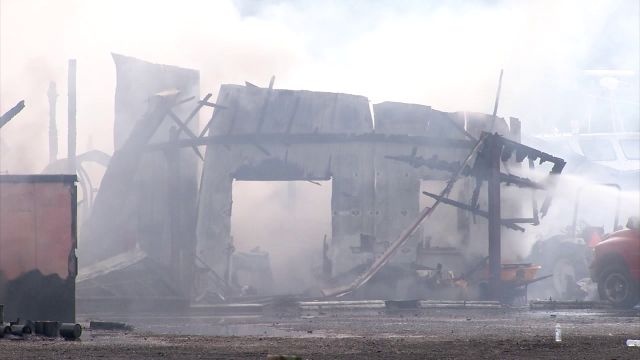 It was all hands on deck Monday as a fire ripped through Chesapeake Boats and Chesapeake Building Supply facility in Crisfield, Md. In total, 15 fire companies from the three lower counties of Maryland's Eastern Shore and Accomack County, Virginia responded to the call.
Brothers Austin and Chris Mason were working when the fire broke out.
"It started in the office, one of our other coworkers said 'Fire' and we were inside of the boat fiberglassing and by the time we got out it had already taken off," Austin said.
The Mason brothers tried to save what they could before the fire became too much to handle.
"There was nothing you could do, water hose, fire extinguishers," Chris said.
"We made an attempt it didn't even work that well," Austin said.
Their uncle, David Mason owns the facility. He was in downtown Crisfield when the fire broke out, but got to the fire within minutes of it starting. Just in time to watch the place he built in 2000 go up in flames.
A full lumber yard, a hardware store and the ships all gone.
"It was heartbreaking," Mason said. "It just spread so quickly in the wood and once it got to the fiberglass boats it just, everything went."
The flames so hot at times bystanders couldn't even watch.
"There was a 200 gallon resin tank up front and when that finally went up, we were standing here by the road and you had to turn your back or walk the other way it was that hot," Austin said.
During the fire water tanker after water tanker rolled in, coming from places like Stockton to fill pools of water used by the fire trucks to fight the fire.
Over three hours after it started finally the fire seemed to be fully out, only smoldering ashes remaining.
Despite the massive loss, the silver lining, no one was hurt who worked there according to employees.
And out of the ashes arose almost instantaneously community support.
"Got a lot of friends that have offered help, Evans Boats offered me one of their buildings to restart so I've got a lot of friends." Mason said.
Mason told 47 ABC that there was insurance on the property. The question now is, how much damage will that insurance cover.