Two kittens recovering, after alleged abuse at the hand of juveniles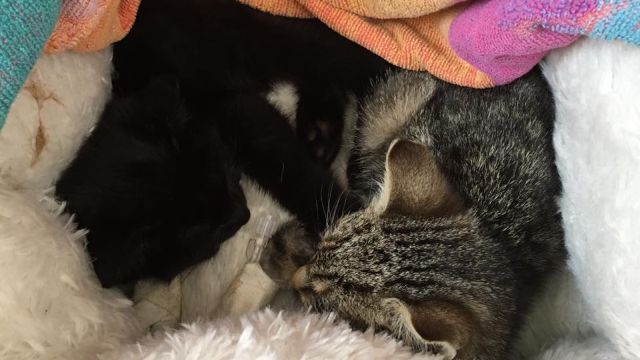 Two children have been arrested on animal cruelty charges, after they apparently dunked two kittens, and threw the animals against a dumpster, repeatedly.
Maryland State Police's Princess Anne barrack says on Tuesday around 7:45 PM, they received a call about several juveniles that had killed two kittens, in Princess Anne. According to the report, the person who called had taken the bodies away from the kids, and brought them to Somerset Animal Hospital, but it was closed.
They apparently left the kittens there, and contacted the barrack. Two Troopers went to the animal hospital, where they say they found the two kittens, soaking wet, but alive. The Troopers say they then brought the kittens back to the barrack, before being rushed to Pets ER in Salisbury, by a concerned citizen.
Troopers then made their way to the area of Stewart Neck Road, and Bratten Avenue, to investigate this crime. That investigation led to the arrests of two juveniles, who were charged, and then released to the custody of their parents, per Juvenile Services.
The Worcester County Humane Society says that the kittens survived allegedly being repeatedly dunked in water, and repeatedly thrown up against a dumpster. The animals are now at Healing Hands Animal Hospital, for treatment. The two little boy kittens are believed to be between 5 and 6 weeks old.
WCHS says they will be starting a medical fund to help victims of animal cruelty. They are looking for name suggestions for the kittens, on their Facebook page, which will then also be the name of the new fund.