Mikulski confident NASA Wallops will continue to thrive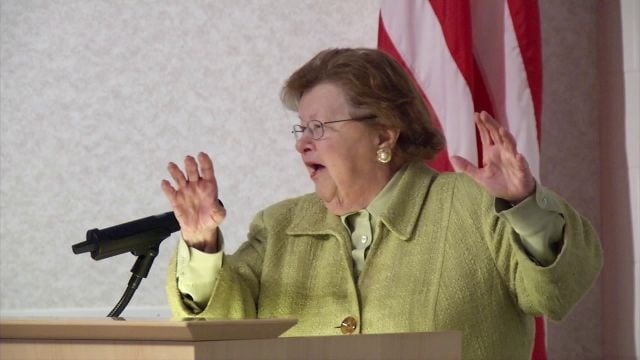 Ten million dollars of federal money is coming to Wallops Island. It's all part of the fiscal year 2017 budget, largely because of longtime supporter of NASA, Sen. Barbara Mikulski (D). Tuesday the Senator took a tour of Wallops as part of her Maryland jobs tour.
During the tour, Mikulski took a few minutes to evaluate the repaired Antares launch pad, which she later told reporters looks to be in top notch condition.
NASA officials showed Mikulski the area where the Antares rocket fell after exploding during take-off in October 2014. Officials say it's back to the way it was before the explosion, save for a new drainage area.
NASA says the federal monies Mikulski helped to secure will further upgrade the facility.
"We have to do some improvements to the pad, you know in order to bring it on fully capabilities that the senator talked about plus processing facilities that we need to go off and work on but that's about it," said Chris Scolese, director of NASA Goddard Flight Center.
Some additional technology upgrades include new equipment in the mission control center. The hope is that keeping everything cutting edge keeps Wallops competitive, especially when it comes to attracting new businesses. Because Mikulski says federal assistance isn't all Wallops will need to continue to thrive.
"What I have concern about is that . . . we need to make more investments in science and technology and I do believe that we can only do this with the partnership of the private sector," Mikulski said.
Although Mikulski is set to retire at the end of this year, she says the fight for federal funding will continue with the efforts of Senators Ben Cardin, Mark Warner and Tim Kaine, who she'll be passing on the torch to.