First State Community Action Agency offering free air conditioning units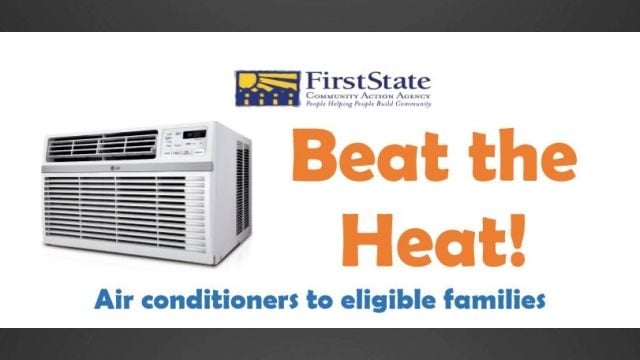 A local organization is trying to keep those in need, cool this summer. First State Community Action Agency says they are bringing cooling relief, and air conditioners to eligible families in Delaware.
Those who qualify can visit First State's office between 10:00 AM – 3:00 PM to apply for a window AC on Tuesday, May 24 on Bay Road in Dover; Thursday, May 26 on Lambson Lane in New Castle, and Wednesday, June 8 on North Railroad Avenue, in Georgetown.
To qualify, those who are interested have to be 60 years of age or older, disabled, or have a children under the age of five in the home. Each household must also meet income eligibility requirements at or below 200% federal poverty guidelines, and have not received AC from this program in the past ten years.
Officials ask those who are interested to bring the following documents.
Photo ID for anyone in the home 18 and older
Social Security cards for everyone over 6 months and older
Birth Certificates for anyone under 18 or medical card with date of birth
Proof of income for everyone in home
Current electric bill
Lease if applicant is a renter
Written permission from landlord if applicant is a renter
For more information about the program, or to schedule an appointment on another date, please contact Martina Duffy at 302-856-7761 ext. 109 or Bether Moya at 302-856-7761 ext. 209.