Donation provides custom fit vest for OCPD K-9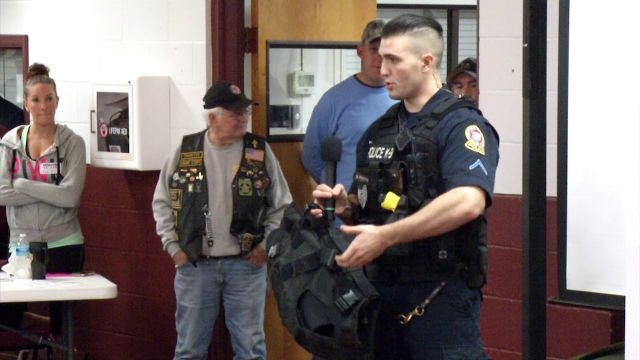 As the Ocean City Police Department gears up to enter it's busiest season, one of their newest officers will be receiving some much needed gear. Sunday the department received a two donations, totaling $1,608, to help buy canine officer Rocco a new custom fit bullet proof vest.
Operation We Care, a non-profit organization in the area aimed at supporting our troops and local law enforcement found out that police department did not have enough money to purchase their newly trained canine a vest, so they donated $1,008 to the cause.
"The ocean city k-9 department has not gotten a new vest for their canines in, I believe it's 15 years. So we found out that there was a gap in funding between what they were able to afford and the cost of the vest," said Victoria Kent, a member of the non-profit.
The additional $600 came from Girl Scout Troop 835, which gave the department enough money, paired with that they already had to purchase the $2,608 vest.
"Our troop really loves canines and the community's really close to our heart and we really love helping people and we love helping dogs and everything," said girl scout Jenna Bradford.
Police tell us the added protection is needed though, especially given recent events.
"There's been more increased attacks on canines nationwide. There's been dogs who have succumbed to wounds from stabbing or gunshots recently in Las Vegas," said Pfc. Nick Forsyth.
According to the officer down memorial page 12 canine officers have lost their life this past year in the line of duty, six from gunfire and one from a stab wound.
The new vest will provide safety from both of those threats.
Something Roccos' handler Pfc. Sean Mchugh said his partner will appreciate.
"He'll be pretty happy that its another line of protection for him during his job because you know, he gets put out there on the line if your searching for someone that's kind of hidden and things like that so i'ts going to better for him," McHugh said.
Currently Ocean City has five police dogs, but this new vest will be the first of its kind at the station.
The goal is to get the rest of the dogs upgraded vests and the protection they need going forward.