Snow Hill Middle School receives Green School award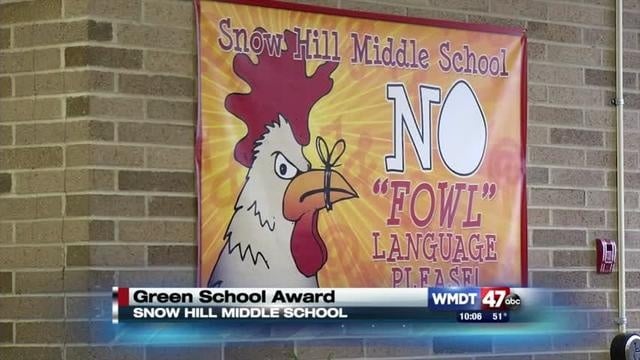 Snow Hill Middle School has brought the "Green School Award" back to Worcester County for the first time in 5 years.  The Maryland Association for Environmental and Outdoor Education has certified SHMS as one of its Green Schools for the work they do to reduce their carbon footprint, and give back to the environment.
Five students, all 8th graders, led the charge to have their school certified when their teacher encouraged them to apply.  Matthew Sponaugle, Craig Morton, T'Nae Fitch, Angela Cordova Flores, and Ben Jackson helped their school of nearly 400 students receive the award by promoting environmentally friendly strategies such as recycling, as well as saving electricity and water.
The group also planted trees and bushes both around the school and around the county, planting buffer trees near the highway next to Worcester Tech.  Sponaugle speaks for the group when he tells 47ABC " I think a lot of us were pretty motivated to get this done, because this is really nice for us because you know we're in 8th grade we're moving on to the high school now this year so this is a really nice. I guess you could call it a parting gift to give to the school."
Snow Hill Middle School Principle Christina Welch says she is so proud of not just the 5 students who led the charge, but all of the others who put in the effort to help bring recognition to their school as well.