Latino Flavor participa en una sesión de reiki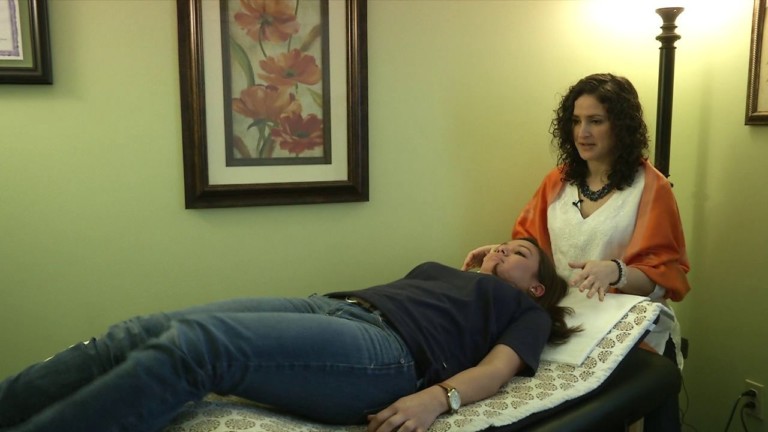 Aunque parece que no mas está poniendo las manos sobre un cuerpo, Zlatli Koscina, una practicadora de Reiki en The Personal Wellness Center, está haciendo mucho más. Reiki es una  técnica Japonésa que involucra, el cuerpo, la menta, y el espíritu.
 
"Es una técnica que se usa básicamente para relajar a la gente y para reducir el estrés 8," dice Koscina.
Acuerdo a Zlatli, reiki es un tratamiento que trabaja usando vibraciones de energía que son emitidas por el practicante. Zlati enos dice que esta práctica es común para la gente que  busca tratamientos naturales para equilibrar su energía y sentirse en paz.Y nuestra compañera Jaisol Martinez tuvo una sesión se reiki con Zlatli.
Primero Zlati empezó con chequeando las chakras de Jaisol con un péndulo.
"Son campos energéticos que tenemos en nuestro cuerpo y tenemos 7 chakras ubicadas desde la base de la espira dorsal hasta la cabeza,"dice Zlati.
Zlati nos dice que cada Chakra tiene un significado y chequeando la vibración de cada campo de las chakras ayuda a dirigir la energía de reiki.
Cuando termina chequeando las chakras, ella empieza dirigiendo la energía de reiki empezando en la cabeza de Jaisol y eventualmente llegando a los pies. Ella se mueve a cada chakra o parte cuando siente en equilibro de energía. Una sesión toma aproximadamente 30 minutos a una hora. Cuando Zlati termina hace un sello para que la energía se quede con Jaisol las próximas 24-48 horas. Finalemente Zlati de nuevo chequea las chakras otra vez viendo la diferencia en energías antes de la sesión hasta hora. Y como se sintió Jaisol después?
"Cuando tenías las manos sobre mi sentir como un shock. Cuando  tocas algo y te da un toque se sentía 13 <butt>Alguien que está viendo en la casa está diciendo es una persona no más poniendo sus manos en el cuerpo pero es la energía que se siente y te liberas," dice Jaisol Martinez.
A Jaisol le encanto la experiencia. Si la gente busca una alternativa para las medicaciones o simplemente quiere la experiencia, trátenlo por ustedes mismos.
Para más información sobre reiki y The Personal Wellness Center llaman al (410) 742-6016 o hagan clic aquí.