Gov. Hogan announces plan to widen Route 113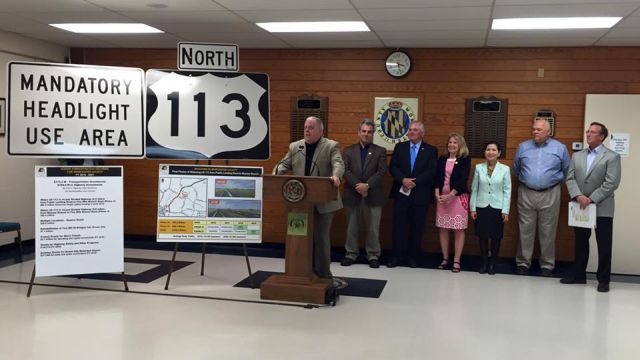 Maryland Governor Larry Hogan continued his tour of the Eastern Shore, with an announcement about a project for one of Delmarva's major roadways. On Friday, Gov. Hogan announced plans to complete the US 113 widening project, making it a four-lane divided highway for the entire 38-mile stretch in Maryland, from Pocomoke City to Delaware. The project, which will reportedly improve safety, and reduce traffic congestion for local and seasonal drivers, is expected to cost $136.8 million.
"This roadway has a long history of neglect and deteriorating safety conditions," said Governor Hogan. "Completion of this project will make improvements that are critical to reduce traffic and help ensure the safety of people headed to work and the thousands of tourists and vacationers who visit this area every year."
Getting Route 113 from a two lane undivided highway, to a four lane divided highway, along this major north-south route in Worcester County, will be done in several phases. The 4.6-mile, $50.4 million Phase Three project that widens the roadway from Massey Branch to Five Mile Branch Road is currently under construction, with about 25 percent of the work completed. The $86.4 million Phase Four project to complete improvements for 4.3 miles from north of MD 365 to Five Mile Lane, will be advertised starting in May, but will go to construction in spring 2017.
According to Gov. Hogan's announcement, 13,100 drivers travel US 113 daily during the summer, and by 2035, that number will increase to 27,350 in the summer. Once the final phases of widening are completed by spring 2019, Officials say these drivers will enjoy a safer, more efficient ride throughout the entire corridor. The funding for the $86.4 million project to build the final Route 113 phase is part the $1.97 billion investment in highway and bridge improvements Governor Hogan announced last June.
This project is apparently just part of $173.3 million in transportation investments in Worcester County over six years, including: $169 million for highways; $3.7 million for Shore Transit; $149,275 in grants for highway safety and other programs; and $371,600 in aviation grants for Ocean City Municipal Airport.