Meteorological tower and wind farm to come to Worcester County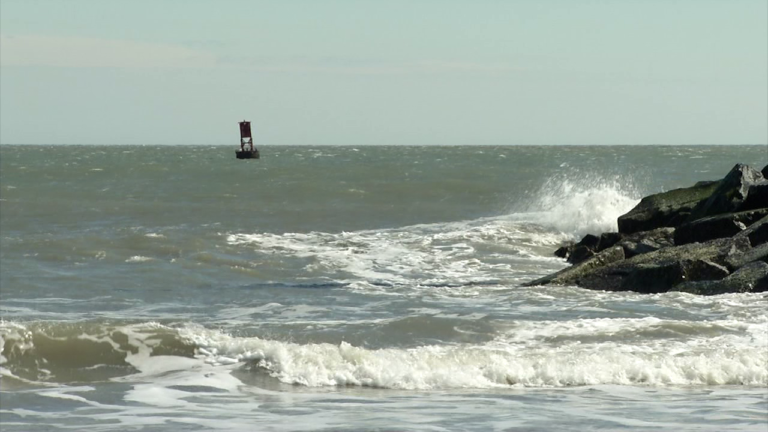 15 miles off of Ocean City's coast may soon stand a meteorological data tower and wind farm.
"this is only the first of many wind farm projects that's going to happen in the united states," said Matt Drew of AWB Engineers, and is also part of a group looking to bring offshore wind energy business to Maryland.
A Baltimore company, U.S. Wind, is geared toward creating a wind farm capable of powering 300,000 homes with clean energy through 85 to 125 wind turbines. It's called their "Maryland Project", and it could be the largest offshore wind farm in the U.S. But first they need data. That's where the meteorological tower comes in. Atop a 70-foot foundation sunken to the ocean floor, the tower would rise 300 feet above sea-level, recording wind speeds and weather data.
"the actual data gathered real-time at the site itself will go to the turbine designers so that the specifics of the airfoil, the way the generators are designed, the towers themselves," said Drew, "all of those things can be based on, again, real-world data,"
We're told the tower is expected to be up and running in July at the latest. The timeline for the turbines is less specific because it depends on the data but it would happen in the next four years. Clean, renewable energy isn't the only thing the project could bring. The massive amounts of data collected will need to be stored which could mean jobs in Information Technology. When it comes time to make the blades, U.S. Wind could make it happen in Maryland meaning potential manufacturing jobs, along with employment opportunities to keep the farm running.
Worcester County Economic Development director, Meredith Mears, told us, "we're looking at an operations and maintenance facility located on our shores to give easy access to folks working on the wind turbines for maintenance and installation,"
The project comes with a hefty price-tag, $2.5-billion. All privately funded. Drew says it could be the start of big things to come for Maryland and the whole East Coast.
"If we can early on understand how to serve this emerging industry we'll be aligning our businesses and aligning the futures for our employees,"
We're told that from the beach it would be very tough to see the turbines and tower unless there's ideal weather.