Lt. Gov. Boyd pays a visit to "The Hill"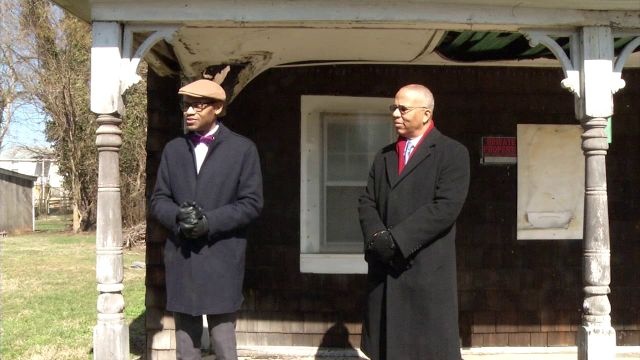 Lt. Gov. Boyd Rutherford paid a visit to Easton, Md. Saturday. It wasn't his first visit, but rather his first taking a tour of a little known community called "The Hill", the oldest free African-American community still existing in the United States. 
According to the first United States census in 1790, freed blacks were already living in Easton, Md. by that time.  
Dale Green, an assistant professor of Architecture and Historic Preservation at Morgan State University. In 2010, Morgan State University formed The Hill Community Project to conduct research on the hill with Green leading the way. 
Saturday, Green led Rutherford, and other state dignitaries such as Sen. Addie Eckardt (R)  on a tour of the Hill.
"Many of us, including myself have been in this community before, but didn't really know the significance of it and so this is something that we want to share with all Marylanders," Rutherford said. 
One of the stops on the tour was the Buffalo Soldier and Civil War soldiers house, where African-American soldiers took residence. The house, despite being of historical value, has suffered visible damage. 
Rutherford announced, during the tour, that the Maryland Department of Housing and Community Development would be providing the financing and funding to restore that house. 
"That is extremely significant, I was just talking to some of the individuals who have been working on it for fifteen years and they are extremely pleased because they've been trying to get funding for all these years," Rutherford said. 
Green also expressed his enthusiasm about the state's contribution.
"It's important for families that live here to be recognized, for visitors that come to this town, for the residents, for people who work here to understand that this is a hallowed ground, on that we  can celebrate, one that we can use and that's why the preservation component is so important." Green said. 
Green said his team looks forward to doing more research on the area and uncovering more information about the Hill, and its role in shaping Easton's history.