Joe Carlini pleads guilty, avoids jail time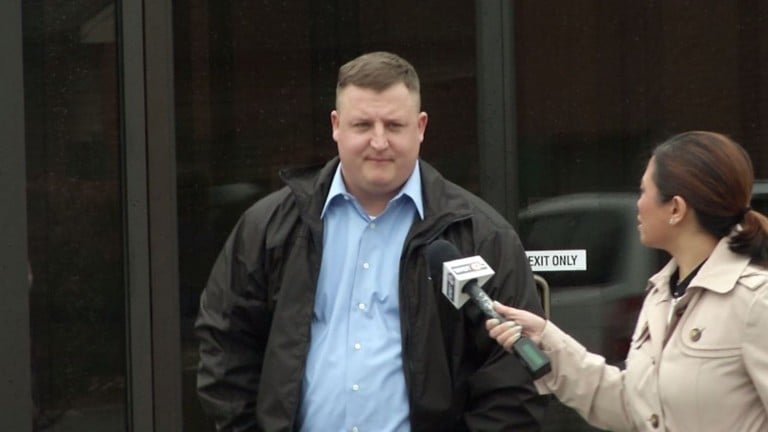 A Worcester County judge convicts Berlin businessman, Joe Carlini, of one count of acting as a contractor without a license.
But in a surprising move by the state, he avoided jail time as part of a plea agreement.
An admittedly happy Carlini left Worcester County District court, Tuesday, after paying a fine of 300 dollars plus court costs. The judge also imposed a 90-day suspended jail sentence. This means he won't have to serve that time if he avoids breaking the law again.
"I truly believe justice was definitely not served," Jami Young tells 47 ABC's Emily Lampa.
Young and Celeste Dodson are the two home owners who came forward accusing Carlini of unlicensed home repairs and shoddy workmanship.
As part of the plea agreement between the Worcester County state prosecutor and the defense attorney, Carlini pleaded guilty to one of the two charges against him. The charge he admitted guilt to relates to Jami Young's case.
The other charge, stemming from the allegations made by Dodson, were placed on a stet docket. Essentially, this means the charge was suspended with the possibility that it could be brought back, should Carlini re-offend.
But both women say the shocker was when the prosecutor told the judge that the state was not pursuing jail time for Carlini.
"I don't think they went after the right charges," explains Jami's husband, Terry Young. "I don't think the plea agreement was adequately explained to us. I think erroneous information was provided to us about the plea agreement."
Despite her disappointment over the verdict, Jami admits, "The important part for me was that he has a guilty plea. He is guilty, beyond a reasonable doubt. He is guilty."
Jami and her husband Terry own a number of rental properties in the Ocean City area. She claims they paid Carlini about $22,000 dollars for renovations and all he successfully did was demo one of their condos. They say they did not get their money back and that they spent $35,000 dollars above all that, so far, to fix what Carlini left behind.
The Youngs and Dodson admit they will be pursuing civil lawsuits, now that the criminal trial is done. "It's not the last time Mr. Carlini will see us," stated Jami.
But Jami, Terry, and Celeste all tell 47 ABC today's criminal trial and the civil lawsuits are not about the money, considering Carlini's past. He was convicted in 2010 of a multi-million dollar theft scheme. They admit they don't hold out much hope they will ever get their investments back.
"My whole goal in this was really to prevent Mr. Carlini from taking advantage of any other victims," said Jami Young. "And I hope there aren't any more victims out there, based on what happened today."
The Youngs and Dodson also had a message for other homeowners, looking for a contractor for home renovations. "Do your due diligence," said Jami, in terms of researching the background of potential contractors. "I didn't, and that is a regret on my part."
47 ABC reached out to the Worcester County State's Attorney's office for their response to the victims' claim that the prosecutor mishandled the case. We are still waiting for a response.
Although Carlini has been convicted, we're told this case is far from closed. If you have any information, or believe you may have been a victim of unlicensed home repairs, investigators urge you to come forward.
Tips can be submitted directly to Maryland State Police Detective, TFC Theodore Buck at the Worcester County Bureau of Investigation, by calling 410-632-1111
If you're hiring someone to do work on your home, you can check their contractors license on the Department of Labor, Licensing, and Regulation website by entering an individual's name or business.
A contractor's license should not be confused with a business license. If you find that a contractor is unlicensed, Det. Buck says do not hesitate to report them to law enforcement.
Also, if your home is in Maryland, you can check to see if the person you're looking to hire has a criminal record or any civil penalties against them, by inputting their name into the Maryland Judiciary Case Search Database.