Pro-life advocates call for more inspections in Del.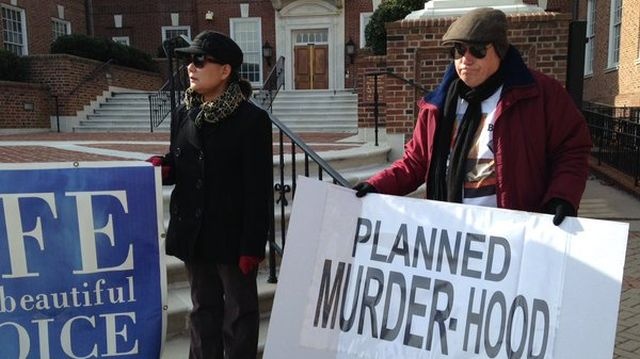 On a cold January day, advocates huddled outside of Legislative Hall Wednesday afternoon to host a rally on a heated debate: abortion.
About 60 people joined "Delaware Right To Life" and called for state lawmakers to take action on abortion operations in Delaware this legislation.
Each supporter was given two cards to deliver to their local representatives . The cards listed recommended charges to legislation such as stricter regulations on abortion providers in Delaware.
Lewes resident Nelly Jordan left her signed cards in the office of Senator Ernie Lopez.
"Hopefully with numbers of constituents coming and showing that they're supporting life…they [will] think with their conscience when they vote." Explains Jordan.
Donna Latteri, a member of the Board of Directors for Delaware Right To Life, says the ultimate goal is to end abortion; however, she says tighter inspections are the first step.
"Number one to inspect the clinics for proper procedures so that they will sterilize their instruments, that girls' lives are not in danger and to enforce the existing laws that currently on the book." Explains Latteri.
Andrea Wojcik, Chief of Community Relations with the Delaware Divison of Public Health, says there are three abortion providers in the state. According to Wojcik, abortion services are already subject to regular inspection.
In a statement, she explains "Accreditation includes both on-site and off-site inspections and is a very involved and intensive process, similar to what hospitals may be required to do, or decide to do, to receive certain kinds of funding."
In response to the allegations of not sterilizing their equipment, Planned Parenthood of Delaware ("PPDE") President and CEO Ruth Lytle-Barnaby says "Comments made that we use unsterile instruments and pass STD's between patients are irresponsible and libelous."
According to Lytle-Barnaby, PPDE undergoes multiple inspections and receives oversight from 15 entities.
Another recommendation on the petition cards include pushing for strict enforcement of waiting periods, informed consent, and parental consent for abortions.
Delaware Right To Life Right has also recommended the state to revoke all taxpayer funds and grants-in-aids to PPDE.
Latteri claims the state of Delaware funds over a million dollars to PPDE; however, Lytle-Barnaby argues funds received from the state do not pay for abortions unless in documented cases of rape or incest.
The fourth item on the card urges lawmakers to vote against any Death With Dignity legislation, which is the process of terminally ill adults voluntarily requesting and receiving lethal medication.
It's currently legal in three states. Last year, a Death With Dignity bill in Delaware failed to make it out of committee.