Ireton starts on the trail to Congress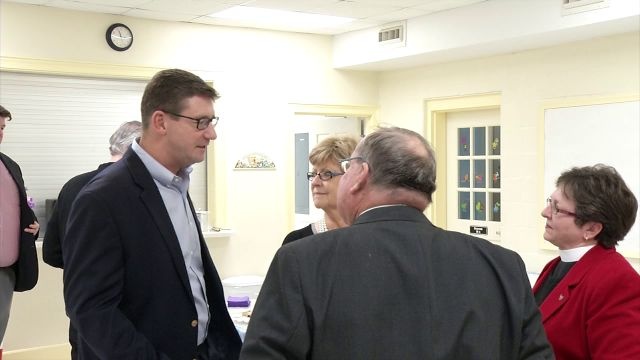 Cheers were heard Saturday as former Salisbury mayor and current city councilman Jim Ireton spoke to citizens in Pocomoke City about what they'd like to see in their representative in Congress.
Although Ireton has not officially filed the paperwork to run, the paper at the door that read "Ireton For Congress" let people know Ireton's intent before he even spoke.
"Democrat or Republican, we deserve better than what we've gotten from the person who represents us now," Ireton said.
During the event that was titled as a meet and greet Ireton touched on points that he believes current Representative Andy Harris has fallen short on.
Mainly, his belief that Harris voted the wrong way after Crisfield was hit by hurricane sandy.
"I would not have voted against hurricane relief like Andy Harris did it's as simple as that. It comes down to the moral fortitude to be wiling to make a difference in the lives of people instead of making a point. He wanted to make a point," Ireton said.
In 2013 Harris voted against a $9.3 billion bailout of the national flood insurance program because the proposed bill "included no plans to make sure we would not have to bailout the program again in the near future", likening the bill to writing another blank check.
In attendance Saturday was Pocomoke City Mayor Bruce Morrison.
Despite the fact that over the past 20 years a Democrat has only represented the first district once, and for one one term only, Morrison said Ireton, a democrat, has a solid chance.
"We all need to come together as a bipartisan group now and work for the people of this country to make the country a better place today and I think Jim has got the idea that's what he wants to do and I feel strongly with him right now," Morrison said.
Ireton has until February 3 to officially file the paper that he is running for Congress.
Congressman Andy Harris released a tatement after 47 ABC reached out to him for a response, saying "there will be a time later in the year for debates and campaigning" and that right now he's focused on the first congressional district.