Caroline County man gets shout out from Coast Guard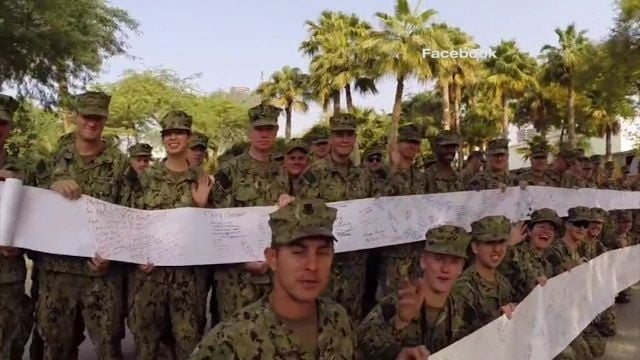 Only days after Christmas, men and women of the U.S. Coast Guard serving in Southwest Asia posted a video on Facebook thanking George Jackson of Caroline County, Md. for sending a scroll to them, as he's done for them the past few years.
This scroll was just short of 300 ft., filled with hand written thank you notes and holiday wishes, it marks just one of the latest scrolls that Jackson has sent in his 21 years of making them for military personnel.
Jackson, who also is known as Santa to some on Delmarva, says he does to bring love to the men and women stationed far away from home.
"It's a piece of paper that they can walk up and put their hands on and put their hands on something that somebody here not only wrote, but put their hands on too and it just a show of love to those guys and ladies," Jackson said.
Some scrolls have ended up being over a thousand feet long Jackson said. It takes him almost a half-a-year to travel around the Eastern Shore and fill up the scrolls with loving hand written notes.
But these most recent scrolls are special, because they almost were never made.
Jackson said in the spring of 2015 he suffered from a severe infection from a medical procedure that kept him in the hospital for two months. His doctors weren't sure he would make it Jackson said, so he prayed.
"I told him I wanted to see my grandchildren grow up, I wanted to see my wife and I grow old and I wanted to these scrolls for these troops and keep them going," Jackson said.
And he did keep the scrolls going. Jackson made a full recovery and for the 21st year in a row, sent out scrolls, over 3,000 feet worth.
"So when I saw that video I said thank you to god, because he guided the hands of those doctors and kept me here," Jackson said.
Jackson says he'll start making scrolls again in February to send out in the summer and that as long as he's here, the scrolls will make their way to our men and women, wherever they may be.
Jackson can be reached about his scrolls by sending him a message on his Facebook.