After having her life saved, Salisbury woman donates to fire department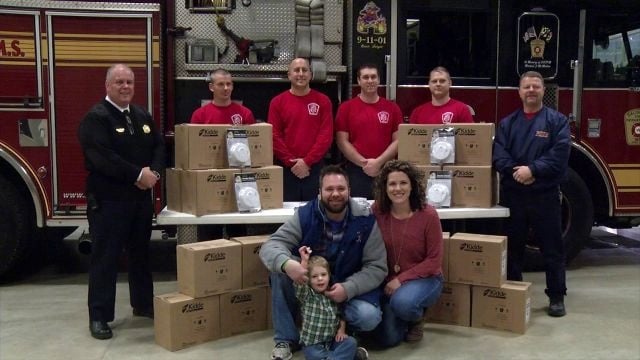 Salisbury Fire Department received a donation of 96 smoke alarms from Jayme Clarke Friday night. The night was picked over others for a special reason, the firefighters on shift were the same one's who saved Clarke and her then two-year-old son Jaxon from their burning home nearly half a year ago.
In July, Clarke was awoken to the sound of her smoke alarm, smoke already filling the bedroom of her Salisbury home and making it hard for Clarke to concentrate.
A fire had started in her living room, the result of a overloaded surge protector according to the fire marshal's report. 
Clarke's first thought, to make it next door to her son's room. As soon as Clarke made it to the hallway though, the effects of smoke inhalation began to cause her fade in and out of consciousness. 
"I felt like I was going to black out," Clarke recalled. "I knew if I passed out I would have no chance at helping my son." 
So Clarke retreated to her room, making it out the window and on to the roof top where she began screaming for help. 
Within minutes Salisbury fire department were on scene. Minutes that felt like hours Clarke said, adding that her time on the roof still haunts her. 
Clarke was rescued, but the fear that her son would not make it out prevented her any relief. 
"When they pulled him out, I thought in my mind they were going to pull him out and he was going to be dead," Clarke said. 
Thankfully, Clarke's fears  were not reality. Jaxon had suffered no harm. 
"We managed to save Mrs. Clarke and little Jaxon and you know, you just can't imagine what that feeling is, what that's like," said Salisbury assistant fire chief James Gladwell. 
Months later that life-changing night would lead Clarke to coordinate two fundraising events and use the money to orchestrate the purchase of the 96 smoke alarms. Her mission two-fold,  to give back to those who saved her life and to help spread fire safety awareness.
"My hope is that, who knows, one of these smoke alarms could actually save another family one day," Clarke said. 
The donation Friday night, is something that Gladwell said means the world to the department. Often times you never see the people you save from a fire again Gladwell said, let alone grow to have a relationship with them.   
All that, makes Clarke's donation even more remarkable. 
"You know all that on her, all that on her own time and of her own accord, that's pretty special stuff, they're pretty special people and we're just lucky that we've come to know them," Gladwell said. 
Clarke hopes her story can inspire people to make sure they have smoke alarms installed and routinely checked in their home and to develop an escape plan. 
As for the smoke alarms, those will add to the smoke alarms that the department already have that they give away to any one who needs them in the department's service area.