Inside Amazon on Cyber Monday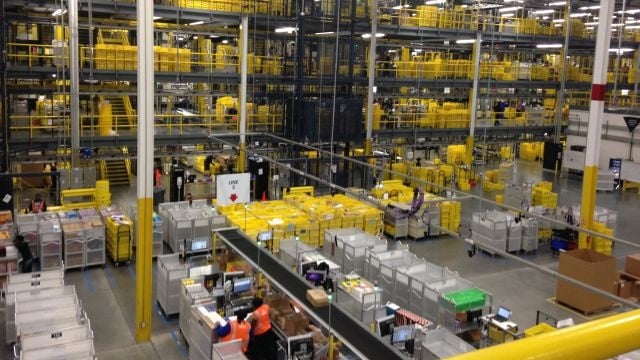 Think of Amazon fulfillment centers like shopping malls that don't close and are not directly open to the public: shelves of toys, electronics, home goods constantly being handled 24/7.
That's how the center in Baltimore, which is one of 50 in the U.S., is operated.
"Most of the items coming out of this facility are smaller to medium sized items that customers would order." Says Amazon spokesperson Leslie Letts.
Letts predicts this Cyber Monday will among their busiest days of the year. According to Amazon, net sales are expected to grow 14 to 25 percent when compared to last year's 4th quarter.
The center in Baltimore is ready, according to Amazon.
The one-million square foot center opened in March 2015 and employs 3,500 full-time workers. They also hire additional help during the holidays, but it's not just human help. Hundreds of Amazon robotics carry up to 700 pounds to bring the heavy-duty equipment closer to human hands.
"So, the robotics are helping to bring the portable shelving to the people who are stowing the product as well as picking the product." Explains Letts.
"Stowing" is the process when individual items are placed into particular bins. They're picked back out as soon customers order them. They then move along a system of conveyor belts, which weave throughout the center.  
At the Baltimore fulfillment center, there are 14 miles of belts. Orders are sorted into boxes, and then they're ready to ship out to their ultimate destination. 
Kent Island resident Randy Ebling started working at the fulfillment center this past spring. He tells 47 ABC their main priority, whether it's Cyber Monday or an average Tuesday, remains the same.
"It's a lot of fun, hard work and it's all about the customer." Says Ebling.
Amazon officials say their top deals will available at various times through December 5th. You can find the deals on www.amazon.com/cybermonday.