47 ABC Exclusive: Beau Oglesby addresses allegations of racism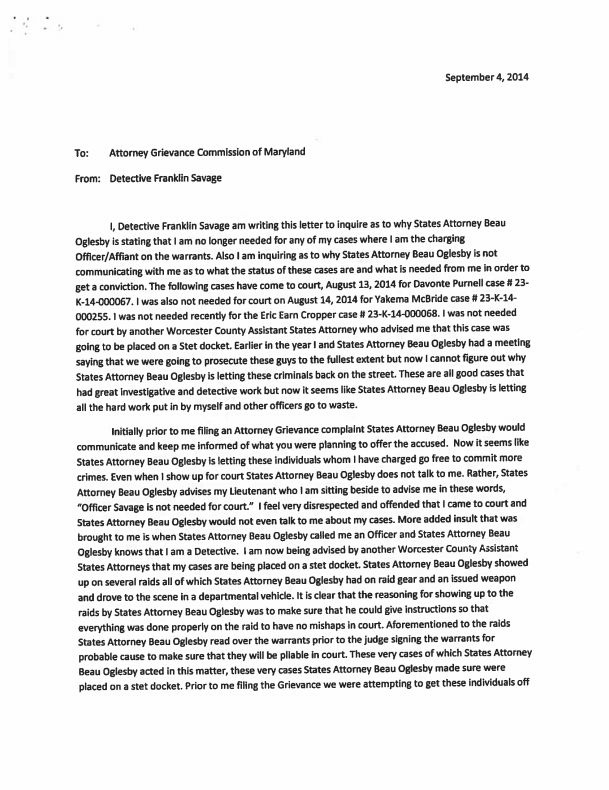 Claims of racial injustice are now festering within the city of Pocomoke.
Three black police officers filed complaints of discrimination with the Equal Employment Opportunity Commission. But few people actually know the full details contained within those documents. City leaders aren't talking about it, nor are they clearly stating why two of those officers were fired.
But now Worcester County State's Attorney, Beau Oglesby, breaks his silence to speak with 47 ABC, in his own defense, over the allegations made against him by former Pocomoke police officer Franklin Lee Savage.
(PHOTO: Worcester County State's Attorney, Beau Oglesby, opens up to 47 ABC's Emily Lampa about allegations of racial discrimination made against him by, former Pocomoke city police officer, Franklin Savage)
Savage had initially agreed to speak with 47 ABC, as well, on November 11th. But he canceled his interview the night before. Despite turning down our request, Savage's accusations are clear, as his lawyer explained to 47 ABC's Julian Sadur in an interview last month.
(PHOTO: Franklin Savage, former Pocomoke police officer, accusing Wor. Co. State's Attorney. Beau Oglesby, of racism and retaliation for filing EEOC and Attorney Grievance complaints.  Photo courtesy: Pocomoke PD)
Savage claims Oglesby used the *n-word* repeatedly in his presence. And he accuses the state's attorney of retaliating against him for filing an Equal Employment Opportunity Commission complaint about this alleged racial discrimination.
"That is factually untrue," Oglesby tells 47 ABC. "There is no other way to define or respond to his allegations, other than saying they are untrue."
In an attempt to explain what he says actually happened between Savage and himself, Oglesby allowed 47 ABC to bring cameras into the conference room at the state's attorney's office in Snow Hill, MD so he could show us where and how he says the incident in question took place.
"It was a case review," explains Oglesby, "something I do routinely for major prosecution. This was felony drugs, and a very serious weapon involved, as a result of the execution of three simultaneous search warrants, in Pocomoke city. We came in to review that particular case, I was prosecuting."
Savage details his account of the meeting on April 7th, 2014 in a complaint he filed with the Attorney Grievance Commission on July 22nd, 2014.  
On the first page of the document, Savage confirms a he made a similar complaint about this matter to the EEOC.
The full document, and Ogelsby's recollection of the day, match up on a number of details. "I requested that he bring all of the physical evidence that was seized as a result of the execution of the warrant, including paperwork and photographs," Oglesby tells 47 ABC's Emily Lampa. "I was literally going through a stack of papers, looking at each one, discussing each one, with everybody at the table."
Where their stories deviate is their accounts regarding the reading of 2 letters. "They were written by an African American, to an African American. I read those letters verbatim," says the Oglesby, "because if introduced in trial, they would have been read verbatim to a jury."
One of the letters was allegedly written by Davonte Purnell, a suspect arrested in a 2014 drug bust in Worcester County. The other, reportedly written to Purnell from a friend in prison.
Frank Savage doesn't dispute that Ogelsby read them, but he claims in his letter to the attorney grievance commission that he was highly offended that Oglesby read the "n-word" quote "freely and without care."
"That never happened," Oglesby said emphatically in response to Savage's claim. "The characterization is as if I used it as part of my own language. That I was referring to him, or calling him… That never happened."
In response to the complaint Savage filed with the Attorney Grievance Commission, Oglesby and the three other people who participated in the case reviews that day sent in letters to the staff attorney investigating the case. The letters were detailed accounts of what happened that day, reportedly from their own recollection. The three other people in the conference room on April 7th, 2014 were Assistant State's Attorney, Ajene Turnbull, special investigator, Kelly Hurley, and Worcester County Criminal Enforcement Team supervisor, Sergeant Nate Passwaters.
In Ogelsby's letter to the commission (pg 1,2,3), he admits he said three variations of the "n-word" out loud, a total of 8 times in the course of reading the two letters.
But Ogelsby stated he stopped midway through the reading, offering anyone offended by these words "the opportunity to leave the meeting without needing to offer an explanation as to why." Special Investigator Hurley supports this in her account to the commission (pg 1,2), stating that "after reading several sentences in the letter, Ogelsby paused, asking if his reading the letter out loud made anyone uncomfortable." She recalled that everyone in the room answered "no" and Ogelsby continued reading.
"There was never an objection," asserts Oglesby. "There was never anyone who expressed anything other than let's evaluate it as to whether or not it should used in trial."
But Savage's complaint tells a much different story. It reads quote "State's Attorney Ogelsby stopped, and said am I offending anybody by reading these letters. This is when ASA Turnbull, who is an African American, got up and left the conference room."
Ogelsby admits that Assistant State's Attorney Turnbull was in the conference room that day, at the onset of the case review meeting. But apparently he left well before before the letters were read.
"We were doing round tables on two separate cases," Oglesby explains. "So, we did the first round table. When that was done, I told him, 'You're welcome to stay, but we're going to talk about this other case that I was handling.' And he said, 'I've got lots of stuff to do.' Got up and walked out."
In his own letter to the commission, Turnbull explains this: "Before this second meeting began, I excused myself since I was not involved in the prosecution of those cases and had other work to attend to. I was not present for any discussion of Detective Savage's cases, nor was I present for the reading of any letters associated with the evaluation of those cases."
Ogelsby believes Turnbull admitting he wasn't there when the letters were read out loud vindicates him from all of Savage's claims, "(Savage) makes that the cornerstone of his argument. But it never happened. So what does that tell you about the rest of his allegations?"
47 ABC requested an on-camera interview with ASA Turnbull, which he apparently declined.
Savage resigned from the Worcester County Criminal Enforcement Team on June 10th. He closed his letter to the commission by stating, "Since this has happened, I am having problems with my cases being prosecuted also I have had problems sleeping as a result of constantly thinking of him reading the "N" word over and over again in these letters."
But according to the written responses of Sergeant Nate Passwaters, Special Investigator Kelly Hurley, and Attorney Ajene Turnbull; Savage did not indicate to any of them that he was offended by Ogelsby's reading of the letters, during or after the pretrial meeting. Oglesby says Savage did not approach him about it either, "He didn't from the time that I read the letters in April until the complaint, the date that I got the complaint in June. More than a hundred days. He never said a word."
Savage followed up his initial attorney grievance complaint, by filing another complaint (pg 1,2,3) seven weeks later. in which he details the alleged retaliation he faced for speaking out.
It was almost one year ago that a staff attorney for the Maryland Attorney Grievance Commission replied to Franklin Savage about his allegations regarding Beau Oglesby.
This was her response:
"The jurisdiction of this office is generally limited to reviewing conduct that may be in violation of the Maryland Rules of Professional Conduct, established for lawyers who practice in Maryland. I have considered your complaint and the attorney's response. I do not find a sufficient basis for this office to take further action. I'm therefore constrained to close the file at this time."
Although the MD Attorney Grievance Commission case might be closed, there are still a number of EEOC complaints out there, filed by Franklin Savage against Beau Oglesby, the Worcester County Criminal Enforcement Team, and the city of Pocomoke.
In the second part of this special report, 47 ABC investigates more of those claims and why Franklin Savage was fired.