Negative health effects of too much candy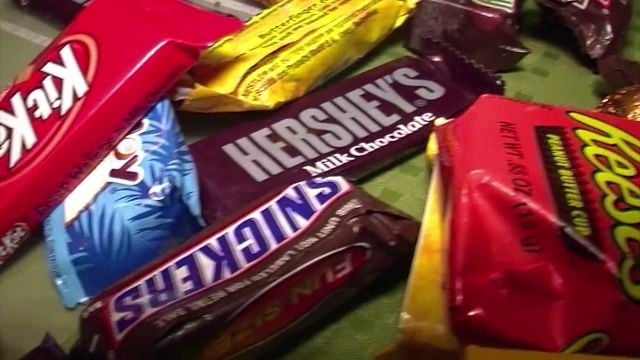 Candy is the chemical part of what attracts kids to Halloween and it's why the day is often called a dentist's worst nightmare. 47 ABC spoke with Doctor Charles Brenner of Dentistry for Young People and he says, "You cant get to a toothbrush fast enough to get this stuff off your teeth."
Doctor Brenner is talking about refined carbohydrates, more specifically, sugar, white flour and crackers. Doctor Brenner recommends avoiding such foods but he understands it's next to impossible if you plan on eating Halloween candy. So he says it's OK to have it, but not all the time.
Doctor Brenner tells 47 ABC, "It's not the amount its the frequency of consumption that causes the dental problems."
And it's not just the candy.
Doctor Brenner tells 47 ABC, "The very worst were raisins, figs as in fig newton cookies and dates because of their stickiness and concentration of the sugar."
So if you're not sure what to give out and want to avoid food all together, the Delaware Division of Public Health recommends things like stickers and tattoos, or fun erasers and pencils. As far as the candy, Doctor Brenner says it should be saved for special occasions.
Too-frequent sugar consumption also hurts more than just your teeth. According to Dr. Jennifer Ashton of Good Morning America, a study on obese children showed that by reducing sugar intake for nine days, LDL or "bad" cholesterol, triglycerides and blood pressure all fell.
Doctor Ashton says, "What I tell people is worry about the other 364 days a year don't worry about this one day, however, a lot of parents will say to their kids save up your candy and eat a little bit of it every day, I think that's a mistake, have them enjoy that holiday and then go back to that clean eating as much as possible and again read those labels."
It's also important to remember before opening your candy to check it. The Pocomoke City Police Department is holding their annual candy screening on Halloween from 5 to 8 pm at 1500 Market Street in Pocomoke City. For more information you may call 410-957-1600.