Gov. Markell receives flu shot at New Castle Farmers Market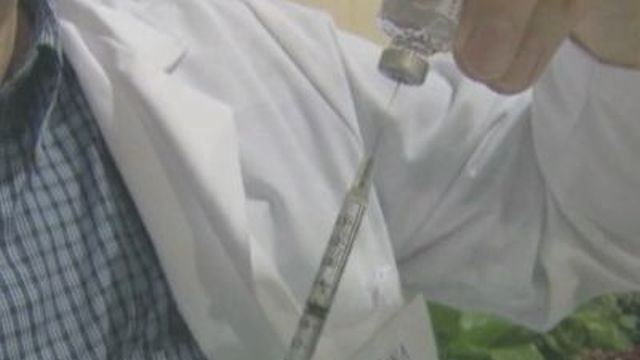 Governor Markell is advising people to get their flu shots, as early as possible. On Friday, Governor Jack Markell, along with the Division of Public Health, had their annual flu clinic at the New Castle Farmers Market. The Governor urged everyone over six-months-old to get their shot, early, before pushing up his own sleeve to receive his vaccination.
"Get your flu vaccination, not the flu," Governor Markell said.  "The flu vaccine protects you and your family, co-workers, and others.  The flu is easy to transmit and you can get it from healthy – but unvaccinated – children and adults."
 
All Delawareans, especially our elderly, our young children, those with chronic health conditions and compromised immune systems, need protection," said Delaware Health and Social Services (DHSS) Secretary Rita Landgraf who also received a flu vaccine at Friday's clinic. "Even if you're not in a high-risk group, you likely live or interact with those who are."
Officials say last year was a particularly rough year, because of the unexpected mutation of one strain. During the 2014-2015 flu season, Delaware had 28 reported flu-related deaths, and over 2,300 reported flu cases, compared to four deaths and more than 1,700 reported flu cases in the prior season. The Centers for Disease Control and Prevention says they are confident of a better match between the vaccine and this year's circulating viruses.
It takes about two weeks for the vaccination to protect the body, which is why officials suggest getting the flu shot early. The DPH is offering 36 flu shot clinics between October and December. Officials say the flu season typically peaks between December and February. For more information on the flu, and where to get vaccinated visit the DPH website.