The future: deadly drugs & our children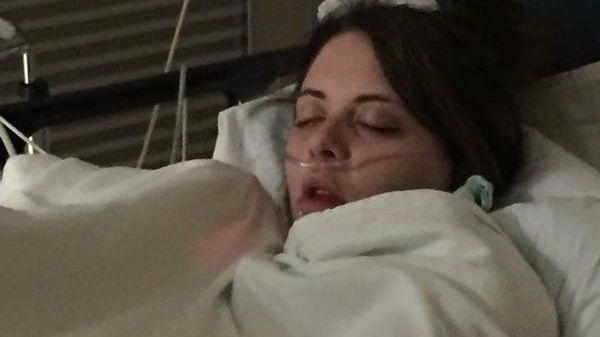 "I used when I was pregnant," admits Sarah McCoy, a recovering heroin addict. She tells 47 ABC this troubling fact in the effort to shed light on a concerning statistic.
10-percent of all babies born in Wicomico County, over the past 12 months, were born addicted to heroin.
According to the National Institute on Drug Abuse, "Besides the risk of spontaneous abortion, heroin abuse during pregnancy (together with related factors like poor nutrition and inadequate prenatal care) is also associated with low birth weight, an important risk factor for later delays in development. Additionally, if the mother is regularly abusing the drug, the infant may be born physically dependent on heroin and could suffer from neonatal abstinence syndrome (NAS), a drug withdrawal syndrome in infants that requires hospitalization. According to a recent study, treating opioid-addicted pregnant mothers with buprenorphine (a medication for opioid dependence) can reduce NAS symptoms in babies and shorten their hospital stays."
There is currently a sober house in Salisbury, Maryland dedicated to treating and monitoring pregnant women suffering from addiction.
Although treatment is optimal, health experts in Delaware say it's not uncommon for judges to send pregnant women who are addicted to heroin straight to prison, to protect the women and their unborn children from drugs.
"What really frightens me is we don't have the research just yet," Delaware Health and Social Services Secretary, Rita Landgraf, explains, "We know about fetal alcohol syndrome. We know about developmental delays. You know when the surgeon general, actually years ago…decades ago, indicated that no amount of alcohol is safe in utero. But we don't know now how this heroin is going to impact the future of these children. So, indeed our focus will be on addressing that population."
Sarah says she continued to use heroin even after her daughter, Brie, was born.
"It's going in the bathroom to do what you're going to do," Sarah explains, reflecting on the time when she decided to quit, 3 years ago, when her daughter was 2 years-old. "And I looked at my husband, and I just said 'I'm done, if this is it, then I'm done."' We got Brie on the other side of the door, getting ready to go through what our son went through. He's 17 now."
Brie is now 5 years old. And although she is small for her age, Sarah says she is otherwise healthy.
Sarah's son after seeing his mother and father struggle with heroin for years, is now an EMT with the Parsonsburg Volunteer Fire Company.
"Knowing that we can enjoy life with them today, knowing that God healed and restored our relationships with our son, that our daughter is definitely a miracle…" Sarah says with tears forming in her eyes, "She really shouldn't even be here…with the stuff I did while I was pregnant. She just shouldn't."
The area where Sarah's family lives, Parsonsburg, Maryland, is one of the four regions in Wicomico County found to have the highest heroin use.
The health department distinguishes the locations by zip codes: 21849 for Parsonsburg, 21875 for Delmar, 21801 and 21804 for areas in Salisbury.
Cindy Shifler, the Alcohol, Tobacco, and Other Drug Prevention Coordinator for Wicomico County, gave 47 ABC those numbers and even more troubling figures.
One graph shows the number of Maryland high school students that reported using heroin one or more times, and the highest percentages are in six counties on the Eastern Shore.
At 7.5-percent, Wicomico County and Queen Anne County's numbers are on par with urban area Baltimore City.
Talbot, Caroline, Dorchester, and Somerset counties have even higher numbers still, with Somerset having the highest rate of heroin use among high schoolers, at 10.3-percent.
Which is why awareness campaigns which target youth are critical. The "Decisions Matter" campaign in Worcester County hopes appealing to a teenagers need for freedom to make their own decisions will keep them away from opioid use.
"Once you become addicted to a substance," explains Worcester County Health Officer, Debbie Goeller, "which starts with using a substance, then you lose the ability to make decisions, because the addiction is making decisions for you."
Another effort being employed in Delaware, Maryland, and Virginia are drug take back events and the installation of 24-hour drug drop boxes to get unused prescription drugs out of homes.
Health experts say 70-percent of addicts claim to have stolen drugs from a medicine cabinet.
In Delaware alone, there have been ten DEA sponsored drug take-back events, bringing in more than 45-thousand pounds of drugs.
We're told new federal regulations, in the last year and a half, will allow for more drop box locations where folks can dispose of their unused and expired prescription drugs, 24-hours a day.
"By eliminating those dangers," adds Worcester County State's Attorney, Beau Ogelsby, at the unveiling of a new drug drop box at the Government Center in Snow Hill, "it's our hope that we will reduce new users and reduce new addicts."
The Worcester County Sheriff's Office, Criminal Enforcement Team provided 47 ABC with a breakdown of the drugs disposed at the Ocean Pines drop box, in the first six months of 2015.
Most of the excess drugs being dropped off, more than 13-hundred pills were Oxycodone, a powerful and frequently abused painkiller, commonly known by its brand name OxyContin.
Recent Federal Drug Administration changes concerning this drug have some health experts concerned.
In August, the FDA approved limited use of OxyContin for pediatric patients between the ages of 11 and 16 years old. But the F-D-A claims this new approval wasn't intended to expand the use of opioids in children, rather to give doctors better guidelines about how to use OxyContin safely in pediatric patients.
The agency says OxyContin has been prescribed for years to children suffering from cancer, major surgeries or other trauma.
Doctor Karyl Rattay, the Director of the Division of Public Health in Delaware, a board-certified pediatrician, and preventive medicine specialist says it now falls on pediatricians to prescribe this potent medication responsibly, "In fact there's some growing data that shows for example with broken bones, you don't have to treat these kids with opiates. The other options such as ibuprofen can work as effectively in pain management. So I think some of that research is very helpful."
The Duragesic patch, which releases fentanyl, is the only other FDA approved opioid for children
But some doctors worry any opioid use could be detrimental to the growing brain since it continues to develop until the age of 25, which is why they say you should start talking to your kids about drugs and addictions as early as age 10. "We absolutely know that what's in the community is in the schools," adds Dr. Rattay. "We're grateful that we haven't had any overdose deaths in our high schools, but our school nurses and we believe that it's important that we're prepared incase that does happen."
Part of that preparedness is a new curriculum for this fall, which now requires Delaware high school students complete 15 hours of education about addiction in order to graduate.
And each school nurse across the first state now has one unit of naloxone, a drug now commonly being called "the heroin antidote".
It is an emergency overdose drug administered to save a life. And the units were made available to schools thanks to a recent donation from a drug company.
And thanks to training courses being offered at health departments across Delmarva anyone can learn to administer naloxone.
Once you're trained, you still need to get a prescription for naloxone. And there is some concern about the price, which in recent years has doubled.
But even if naloxone is not available, there is still the Good Samaritan Law, which allows anyone who may be with someone who is overdosing to call 911 or drive them to the hospital, without fear of being arrested or charged. "So that even if they're using heroin, or another opiate, they can actually save the life of their friend," explains Shifler.
Angela Caputo says something like this happened with her daughter, Britney. "There's just no words to explain getting the call that your daughter died."
Angela says Britney has been using for close to 8 years and she overdosed 3 times, "The feelings you have when they come out of it, and they are alive, it's like such a relief. But then they go back out and they do it again. It's just really hard."
Hudson Health Services in Salisbury, an addiction treatment facility, says overdose is common among young people because it's difficult to get them to complete the full course of treatment.
They're finding that young addicts are only staying for less than a week of detox. Only 10-percent of the addicts they treat, under the age of 35, continue on with full treatment.