Motorcycle safety tips for upcoming Bike Week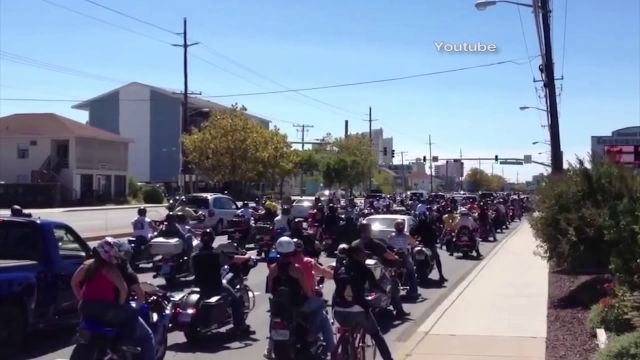 Calling all bikers! Bike Week starts next weekend, which means thousands of bikers will be traveling from near and far. While it can be a good time, the Wicomico County Sheriff's office is urging motorcycle riders to use caution.
47 ABC spoke with Lieutenant Tim Robinson of the Wicomico County Sheriff's office and he wants to remind drivers, "A motorcycle and a car both have the same privileges and the same rights on any roadway."
Knowing this, could save lives. According to the insurance institute of highway safety, motorcyclists are 30% more likely to die from an accident than someone in a car. Bike week sponsor Rommel Harley Davidson officials say it's important to be aware.
47 ABC spoke with Mike "Whiskey" Wroten of Rommel Harley Davidson and he tells us, "Your surroundings is the biggest thing too you know, not only are you looking out for other people and other bikes but you know a lot of cars aren't paying attention to motorcycles, you look down the road and a lot of people don't see bikes and that's very dangerous in itself."
Lieutenant Robinson says the motorcyclists have to pay attention too.
Robinson tells 47 ABC, "It goes both ways, both sides have responsibilities to drive with caution. The motorcyclists can be aware too by just also using a little bit of patience, they see some cars waiting to get though the intersection, approach the intersection a little slowly and make sure nobody is pulling out in front of them and take a few extra seconds to make sure they are seen."
47 ABC spoke with Jeff Merritt who has been riding his motorcycle in bike week for 10 years. As far as precautions that he takes, "We like to make everybody aware of where we're going, how we're going to get there, where we're going to stop on the way just so everybody gets a feel of how long we're going to be on a bike."
As with every Bike Week, Lieutenant Robinson says they will be ready. Robinson tells 47 ABC, "We will have extra people on duty next week we will have extra people stationed at the event itself as well as the surrounding areas of the roadways as well as other area police departments will also have extra people out."
Merritt tells 47 ABC, "People are down here to have a good time that's definitely possible you just need to be careful."
Lieutenant Robinson also stresses that it is extremely important to always wear a helmet. In the state of Maryland and Virginia, it is required. In Delaware, the law states that you don't have to wear one, but you must have it on you at all times when you are riding.