Mayor Ireton announces rent stabilization initiative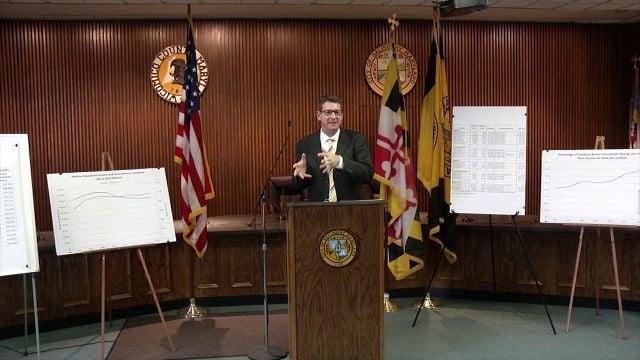 Over the past few months, the city of Salisbury has explored a new curfew, non-conforming issues, and now, they're talking rent control. Mayor Jim Ireton held a press conference Wednesday afternoon to propose legislation which may address the issues renters are facing, and how that might provide relief to families who are struggling.
Salisbury's median household income is about $15,000 less than the national average but its nearly $100 more expensive to rent in Salisbury than it is in half of the nation. Mayor Ireton wants to help residents who are struggling.
On Wednesday, he proposed the rent stabilization initiative which if passed, would effectively bring rates to an affordable range for residents who are cost-burdened, or have very little money after rent and utilities are paid. According to the U.S. census data, 59% of rented households in Salisbury are cost-burdened.
The initiate is aimed at single family homes that have been turned into rentals which means, anyone who may live in an apartment complex would not receive any help, as of right now. Mayor Ireton also says that if the community had more money in their pockets to spend after paying their rent, they would most likely be purchasing food or clothing from the community which in turn puts more money into our local community.
47 ABC spoke with Mayor Ireton and he tells us, "If we can make that neighborhood better by making the property better, making the economy better by putting more money in the hands of the people who live here, I think that's a win win."
When asked if the initiative was too controversial to pass now, Mayor Ireton said no because election is coming up in 3 months and the citizens get the chance to ask the hard hitting questions.
47 ABC also spoke with Delegate Sheree Sample-Hughes and she tells us it was important for her to be present at the initiative to have a voice for the people she serves. She believes that the issue must be addressed in the community.
Sample-Hughes tells 47 ABC, "Working with people in the community I always hear that housing costs is the root of their concerns." Sample-Hughes says beyond looking at home ownership, we must look at quality of living. She says there are some folks who choose to live the American Dream but, "there are also folks that choose not to do that but they have to be able to sustain themselves and have quality living and be able to make that monthly payment of their rent and still be able to have food on the table."
When asked if she thought it was a controversial topic, Sample-Hughes says it is because we are talking about the quality of life.
Sample-Hughes tells 47 ABC, "reality no I don't think it will sit well with many but I do hope as a community that we can come together have the conversations and see what's best for our community. We know that people are in need of housing but we also have to provide quality housing and be able to build in those costs as a property owner. you know you have to pay those things but we also know there's a fair way of doing it as well."
Mayor Ireton says he is interested in getting to the root of the problem and although he only has three months left in office, he doesn't want to go without making sure that residents and the people who voted him in the office know that he is willing to talk about one of the hardest of the things that they've had to address. As far as the next step, City Council is set to have a meeting on October 5th.