Local law enforcement hold motorcycle crash course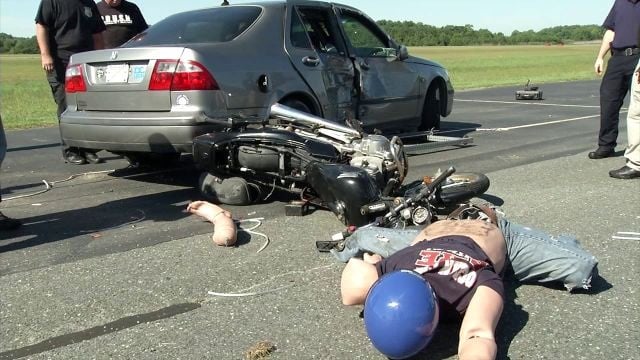 The official start of bike week is September 17th and thousands of bikers will cruise all over Delmarva to celebrate the 15th anniversary, which means more police will be out and about ensuring everyone's safety. But when it comes to actual motorcycle crashes, few police officers have seen them first hand. Which is why a number of law enforcement officers joined forces to teach a class and show them how to properly investigate a crash.
47 ABC spoke with Gary Lewis, a retiree from the Montgomery County Police Department. 7 years ago, he and officials with the Worcester County Sheriff's Office designed a free course for other police agencies, so they can learn how to better investigate a motorcycle crash. Lewis says simply learning on paper what a motorcycle crash involves is not enough.
Lewis tells 47 ABC, "By doing these crashes they see real live damage real live sound and how the passenger of the bike travels off the bike after impact."
The motorcycle and car used in the crash set up were both donated by local repair shops. The motorcycle was attached to a track with wheels, and of course, complete with a test dummy. The bike was then pulled by a car at 54 miles per hour, before being let go.
Corporal Kevin Parks out of the Talbot County Sheriffs office says this is his first time at the course, adding that it definitely helps learning about the riders, the equipment, and how it plays a role in their safety.
Parks tells 47 ABC, "Motorcycles act so much differently, my first fatal crash I investigated as a police officer actually involved five motorcycles so I've always had an interest in trying to figure out why."
With so many bikers down here for bike week in Ocean City, officials say there the potential for an accident like this to occur which is why drivers and bikers both need to be alert and aware.
Parks tells 47 ABC, "I think a lot of these guys that you see with the helmets that aren't up to par would probably change after watching what happens to our test dummies."
Lewis tells 47 ABC, "There's a lot of things a lot of distractions are a big part of motorcycle wrecks."
Lewis also says there are a lot of wrecks, some fatal, that happen during bike week due to sheer numbers. Because there are so many bikers out, it's easier to get caught in an accident with on, which is why he recommends being extra aware during this busy time. Always look before you turn and eliminate any distractions you may have behind the wheel.