Eastern Shore Dropouts: After-School & Summer Programs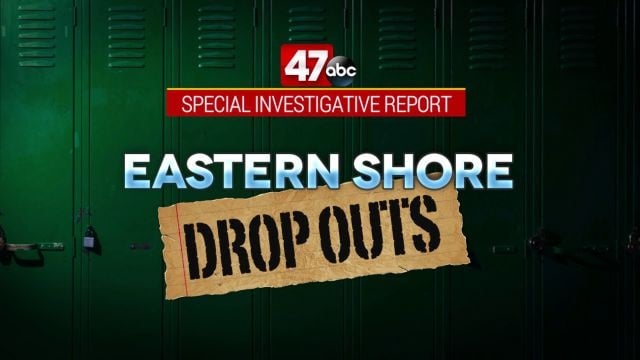 No matter how effective a school system is, there's only so much it can do in the lives of its students, because there's only so much time its students are actually in school.
"After school is a fantastic resource, and it is also an attractive nuisance," says Wicomico County Superintendent Dr. John Fredericksen.
"Especially now with the economic situation, a lot of parents are working, so students are going home," says Somerset County Superintendent Dr. John Gaddis.
Local school administrators know first-hand that unsupervised children can get into some serious trouble.
According to the After School Alliance, more than 15 million students — about 3.7 million of them middle schoolers — are alone and unsupervised between 3 p.m. and 6 p.m. — the peak hours for juvenile crime and experimentation with sex and drugs, including alcohol and cigarettes. Students who don't spend time in extracurricular activities are 37% more likely to become teen parents than those who are involved in extracurriculars.
"It's a fantastic time to do some learning, and it's a horrible time to have the kids not have anything to do," says Dr. Fredericksen.
And so, there are after-school programs.
In Somerset County, their SAILS program invites struggling students in grades 3 through 7 — to after-school September through May, where learning and recreation are combined.
"We know where they are. They're in a safe place in the school, and many times, the kids will tell you themselves it's a better situation for them, rather than going home and just hanging out," says Dr. Gaddis.
The SAILS program involves 3rd graders through 7th graders because, as Dr. Gaddis puts it, the high school dropout problem starts well before high school.
Assistant Superintendent Tom Davis says the students included are often struggling in one subject or another and are then invited to the program. He says the different vibe in the after-school program does wonders for both learning and discipline.
"They want to be there. They enjoy being there. They're on point. It is not daycare. It's not naptime. It's not all play. There is work that they have to do, but there are also those components of the recreation, and STEM (Science, Technology, Engineering, and Math related activities), and you know, they don't leave until they've had a hot meal," says Davis.
It's a successful program. But there's another critical time when students are out of school — summer break. It's a time frame when students can actually lose much of what they've learned over the school year in a phenomenon called summer slide, which especially affects low-income students.
"They're typically not going to have those experiences that a middle-class, majority student might have," says Dr. Fredericksen.
Harlan Eagle and his colleagues are changing that, and have been since 2003. That's when they started Salisbury Horizons, a summer program for talented students from low-income families. Eagle is the program director.
"It's part of a national organization. We're one of 45 sites throughout the country. We follow our students throughout the summer. We provide a six-week intensive academic summer learning program. And then we follow them throughout the school year with academic connections, and also a high school coaching and support program," says Eagle.
Horizons started out with one class, students leaving kindergarten for first grade (rising 1st graders), and every year they've added a class.
"We have a lot of programs that are geared towards out of school time activities, and they're all important. The thing that I think sets us apart is that we get our kids from the time they're going into first grade, and we're sticking with them until high school graduation, and they're sticking with us," says Tom Harris, Associate Executive Director.
Amira Moore was one of those kids. In fact, she was in the first class. She says a lot of things in the program, like getting to visit a college campus, made learning contagious.
"I feel like it makes your mind want more, of education. Because you start to see what you can achieve, especially if you go to colleges, and you're actually there, but you're not attending yet, but you're at least one step closer to the door. Because you get to see," Well I'm actually here, maybe I can do this."
She could do it.
The day we all talked, Amira was leaving for North Carolina, where she's now a Freshman at Chowan University.
Mike Angelot is the oldest of six kids. He himself was too old to be a student in Horizons, as his younger sister Ruth is.
So, Mike helps with teaching, hands-on.
"This year, we talked about how animals in cold areas have blubber. So our teacher had, in one bucket, you'd put your hand where vegetable oil was, and then you'd put your hand under iced water and didn't feel much. And then you went in with just a plastic bag, and the children would like pull their hands out real fast," Mike says, describing the lively style of learning at Horizons.
Horizons is made possible by a collaboration between and among several community organizations and groups, like the United Way of the Lower Eastern Shore, the Salisbury School, The Community Foundation of the Eastern Shore, the Perdue Foundation, and Salisbury University.
It ends up costing parents just $50 per year. But they can only take about 12 students each year. And it's not for lack of demand.
"I noticed when I go in the high schools, I have teachers come to me and say, "How do I get more students into your program? This student really needs your program," says Lisa Koehler, High School Program Director.
But now, in the wake of graduating its first ever high school class, Horizons is expanding.
"We're using this to launch a second site, at Salisbury University, which will maybe within about five years, double the number of students that we're serving," says Tom Harris.
In Somerset County, the SAILS program is funding through a 21st Century gran, but the money is limited when it comes to transportation, so they continue reaching out to the community there as well.
Money is vital, whether after school, or during the summer, to making these programs work. But so is a more human element.
Donelle VanHolten, program director at Horizons, and a parent herself, sums it up well:
"You also have to have more trust. Because the parents aren't just going to leave their kids anywhere, regardless if they're low-income or not, you know these are their kids. So they're going to make sure that wherever these students are, that they know that the person has the best interest for their child."