Dover Air Force base helps children deal with parent's deployment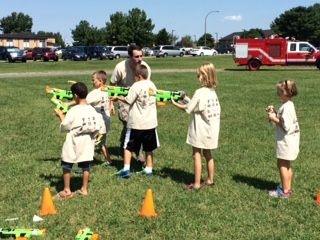 The Dover Air Force Base hosted an event called KUDOS/TUDOS , which stands for Kids and Teachers Understanding Deployment Operations for the children of service men and women. Two years ago this event used to be a school supply drive, but last year it became an activity filled event. 
The day included camouflage face painting, obstacle courses, and learning weapon safety. These activities were set up to mimic what their parents do through in basic training and help make the school year an easier transition for children whose parents are away serving our country. The majority of the children attending have a parent or family member in the United States Air Force. Some have parents who are overseas  while others have parents who could be deployed in the future.
Staff Sergeant,  Nicole Hawley says, "I want them to have the knowledge of oh my mom or dad are going to Iraq or Afghanistan. I remember doing something similar and that way they can open up dialogue and not be as scared."
This event is not only for parents and children. Teachers on the Dover Air Force base and in the surrounding are encouraged to attend to get a better understanding of what their students and students' parents go through deployment. Last year 60 teachers attended the event. This year that amount has grown to 106 teachers confirming to attend.
Air Base Middle School Teacher, Nelle Cox say, "I can better relate to what they might be feeling and they can certainly come to me and let me know why they might have not done well on a test or why they did not get a homework assignment completed."
At the end of the event each child walked away with a completion certificate and a new nerf gun, but most importantly a better understanding about how to deal with a family member's deployment.