Delegate Anderton, Somerset Co. Sheriff's Office remember Chuck Salvas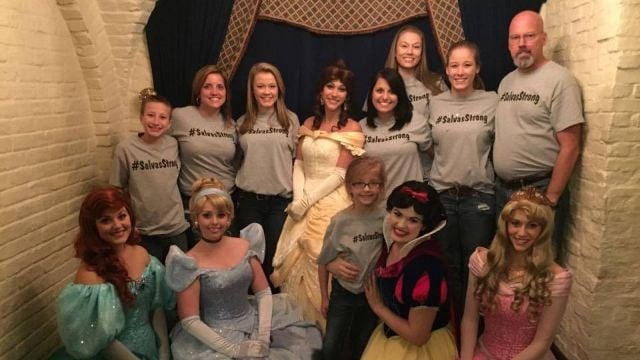 A local Sheriff's Office and Maryland delegate are mourning the loss of one of their own.
The Somerset County Sheriff's Office announced on their Facebook page on Wednesday, that Chuck Salvas had passed away on Tuesday evening. Salvas had been fighting cancer for the last three years. The Sheriff's Office said in their post, "Our hearts, thoughts and prayers go out to Julie and the children at this difficult time. Rest in Peace Chuck."
The Sheriff's Office had several photos of Deputy Salvas, including a trip to Disney World that the community helped raise money for, and even donated a time share. There is also a photo of Deputy Salvas meeting a bald eagle, thanks to Rangers from Tuckahoe State Park.
The Salvas Strong Facebook page posted the following message Wednesday morning, "As I lay here this morning feeling as if this is a terrible nightmare and that I should be up taking care of my husband right now like every other morning, the reality that he won't be in that room when i walk out is beyond heartbreaking. Chuck left us yesterday evening to go be the lord, with me holding his hand to the end like I promised I would!! He isn't in pain anymore and his body is completely restored praise God for that. Words can't express how blessed we have been through this battle. Now we have another battle to face! Please keep my family in your prayers as we go through the next few weeks ahead. Our lives are forever changed and my heart aches without him! He was a fighter to the end and will forever be ?#?Salvasstrong?! Thanks to all of you who went on this journey with us!"
Maryland District 38-B (R) Delegate, Carl Anderton Jr., gave his brother-in-law nothing but high praise, saying, "Chuck was the greatest brother-in-law someone could ask for. He was always there, you know, total family guy." and "He was full on MSP. He loved being in law enforcement, he loved looking out for those that needed it."
The funeral for Deputy Salvas is expected to be held at Emmanuel Wesleyan Church in Salisbury, at 11:00 AM, this Saturday.