The lengths Chronic Lyme patients will go for relief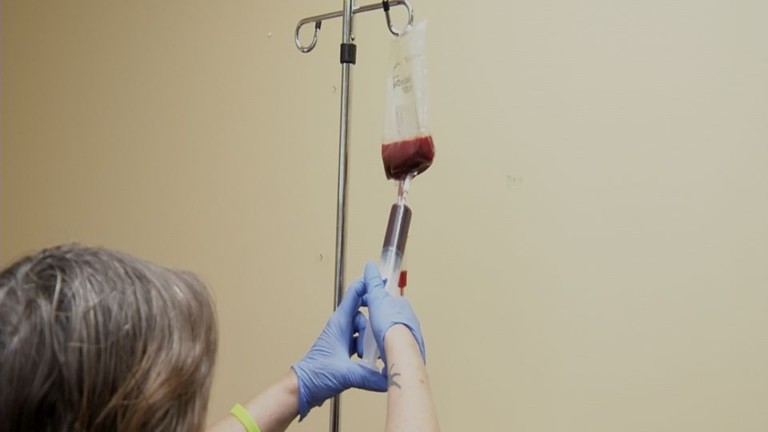 A number of people with Chronic Lyme Symptoms tell 47 ABC they will do pretty much anything for relief.
Professional Basketball Player, Elena Delle Donne, admits she felt lost when she started having symptoms of extreme fatigue, joint pain, and muscle cramps in 2010. That is, until she found a nurse practitioner who diagnosed her with Chronic Lyme Disease and tick-borne co-infections and agreed to treat her immediately.
"Luckily, I was able to find a specialist who heard me and you know, understood me, and listened to my symptoms…and had a plan to get me better," Elena tells 47 ABC. "So that's what was refreshing."
After one month of antibiotic treatments and vitamin supplements Elena was able to get back to basketball.
This year, Elena describes her current season with the Chicago Sky as a healthy one. Which is humble considering sports reporters are calling it "historic". Elena just set the W-N-B-A record for scoring the most points in the first nine games of the season. But this early success is in stark contrast to last season when she missed 17 games.
Elena describes her relapses as debilitating, "The scary thing is. There's a day I could just wake up and feel awful and at that point, I know, that I'm relapsing and there's really nothing I can do about it."
Aside from the regular regimen of vitamin supplements, Elena admits she is continually on antibiotic treatments.
That's a serious point of contention among doctors and the scientific community. According to the CDC, prolonged courses of antibiotics don't appear to improve the symptoms of PTLDS patients anymore than placebos do.
But new research from the Bloomberg School of Public Health at Johns Hopkins University took a look at the current antibiotics used to treat Lyme Disease and had some interesting findings which were published last year.
The study examined Borellia Burgdorferi during two growth stages…2-to-5 day old cultures and 6-to-11 day old cultures. It showed that the typical antibiotics used to treat Lyme Disease, Doxycycline and Amoxicillin, worked well against the bacteria in the first phase of growth but worked poorly against the "burgdorferi persisters" in the older cultures.
Further study showed that combining Doxycycline with Daptomycin, an antibiotic often used to treat MRSA, has shown success killing off these persisters in the lab.
But there haven't been any animal or human trials to confirm if this will have any effect on Chronic Lyme symptoms. Also, it's still not clear if the persisting form of the Lyme Disease bacteria that they saw in the lab is the actual cause of Chronic Lyme.
Despite this new study, many medical experts still warn that long-term antibiotic treatment for Lyme disease has been associated with serious complications. And the CDC maintains on their website that PTLDS patients "almost always get better with time" and "that it can take months to feel completely well".
But there are a number of Chronic Lyme patients who tell 47 ABC they've been suffering for years with no relief.
47 ABC spoke with a number of patients seeing Dr. Henry Childers in Georgetown, Delaware for ozone therapy, an alternative medical treatment being explored in clinical trials, but is not FDA approved yet.
"Some of the patients that are here were wanting to go to the clinics in Mexico," explains Areti Gourzis, "because they found out about ozone treatment, they were just ready to get on there and cross the border and go into tijuana and get their Lyme Treatment. because they're desperate. Lyme patients are desperate patients." Gourzis traveled from the Washington D.C. area to Georgetown for these treatments.
Each of these patients pay upwards of nine-thousand dollars out of pocket for 36 IV ozone treatments, which also includes a number of other alternative medical treatments such as ultra-violet light and high dose IV vitamin therapy.
"No matter what the cost was going to be for me," admits Michelle Green of Townsend, Delaware, "I knew insurance wasn't going to pay for it, I was going to come up with the money, and that was three weeks ago. I've come up with the money, and so I'm here for my first treatment."
Like Areti and Michelle, many of the patients travel considerable distances for this treatment, which they admit gives them all different results.
"I can say, after the first treatment here, the next day I felt like a different person," gushes Tina Kline of Bethany Beach, Delaware. "It was a blessing."
"There's been a lot of ups and downs," admits Areti Gourzis. "And that has been frustrating. But I know it's working, because I wouldn't have had those ups and downs if it wasn't doing something."
"There are people who do get better. And I am one of them," Jill Singer of Bethany Beach tells 47 ABC. "Thank God. So there is hope."
Because this ozone therapy isn't an FDA approved clinical trial, some medical professionals believe it's difficult to say if these Chronic Lyme patients are improving or just experiencing a placebo affect.
"I don't like anecdotal data," explains Dr. Childers of his patients and how they're feeling. "But when you treat people who have had decades or years worth of symptoms, debilitating, that affect every aspect of your life…then all of a sudden it's getting better. Who cares? They're getting better. It's not any voodoo stuff. Open up the biochemistry book. It's all in there."
Despite the varying results of his patients, one thing is abundantly clear. All of these patients are protective of Dr. Childers and the work he's doing in Georgetown.
Areti Gourzis: "If you have Lyme disease and you need an alternative therapy, you just accept that you're going to pay for it out of your pocket. You accept that you need to be really careful. You don't want to say or do anything that is going to put the doctor's position in jeopardy. Like you don't want the fFDA to come in here and shut the doctor down."
Jill Singer: "These doctors are saving lives, and they're putting their medical licenses on the line for us."
Carol Webster of Seaford, Delaware: "I'm sure there are chances he's had to take that other doctors won't."
Michelle Green: "I'm so thankful that he's here and that this treatment is only an hour away."