The Butterfly Encounter flutters into Delaware State Fair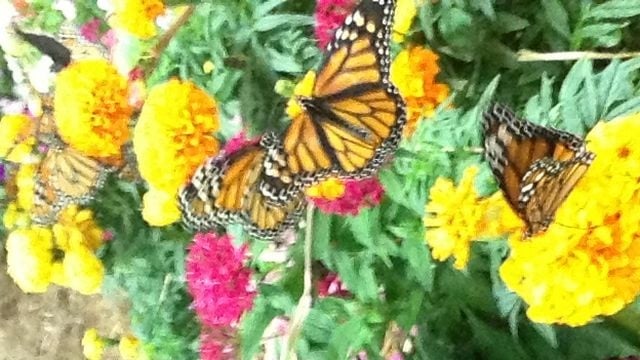 The Butterfly Encounter is a brand new exhibit at the Delaware State Fair. It was created by Jason Lourie and his family about two years ago. The exhibit holds hundreds of the fluttering creatures.
Lourie says, "It's relaxing, it's butterflies, and it's nature. You get to see the expression on people's faces like yours and everyone else's."
Visitors are given a stick with sugar water on the end. It feeds the butterflies. The encounter tent also stores flowers providing the insects with natural nectar that strengthen's their wings for flight; as well as and pollen to spread to other flowers.
The one of a kind site at the fair is not just for fun. Representatives with the encounter say it also helps a growing issue amongst monarchs. Their population is apparently declining at a rapid rate due to environmental changes.
David Tominus, an assistant with the encounter says, "Three years ago they counted about 3 billion in Monarch, Mexico. This past year there were only 800 million."
Representatives say having this exhibit gives them the platform to spread this message to visitors.
Ted Wiseman, another assistant says, "It gives them a new perspective about them."
Tominus continues, "Education is most important; especially with the species itself. Monarchs are very important and the kids need to know this. Everybody needs to know this. They feed us and you know what we need to feed them."
Visitors of the encounter are also able to take home a butterfly kit. It includes a caterpillar so you can watch the transformation process as it becomes a butterfly. Once that happens, visitors can release the butterfly in their yard.  Representatives at the encounter will also be holding classes to teach people how to mend broken wings.